Product was given to me in order to post my honest opinion.
I love the cooler weather, but it means that someone in my family is inevitably going to get sick. My kids are in school and I work at a school, so we are around kids for a majority of our week. My family takes vitamins and supplements daily, along with eating a healthy, balanced diet, but that doesn't always keep us from catching the latest germ that is going around. When one of us starts to feel under the weather, I turn to natural remedies, essential oils, and natural products I can buy online or at my local grocery store.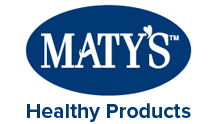 One company that I trust with my families health is Maty's Healthy Products. They offer a wide variety of natural products for the whole family.