Product was given to me in order to post my honest opinion.
I didn't know what a Goji Berry was till about a year ago when I was introduced at a children's event at my local Co-Op. The Co-Op is a great resource for all-natural products and healthy living. My kids love going to their once a month Sunflower Kids club where they get to taste a variety of natural products and get to make their own healthy snacks.
The Goji Berry is a sundried superfruit. It has traditionally been used in Chinese medicines for thousands of years to strenghten the immune system and improve eyesight. They are a great sourse of mininerals including Zinc, selenium, Iron, Copper, calcium, and phosporous as well as vitamin B1, B2, B6, C, and E. Goji berries contain all of the essential amino acids, dietary fiber, and the highest concentration of protein versus any other fruit.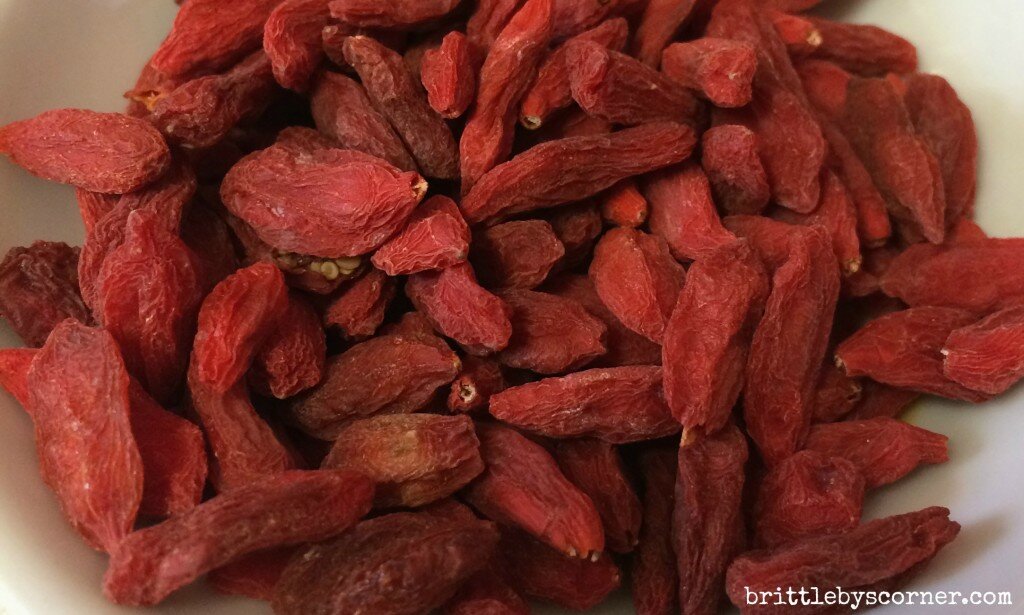 Goji Berry Benefits:
source of antioxidants
high in fiber, protein, and minerals
Packed with vitamin A and C
Non- GMO
Gluten Free
Pesticides Free
Certified Kosher
I get my Goji Berries from Morning Pep. They also carry Xylitol which is what I used to make my homemade toothpaste.
You can add a handful of Goji Berries to premade trail mix or make your own. Not only do Goji Berries taste great dried, but they can be used to make drinks. I was able to make tea and lemonade.

Goji Berry Tea
Boil water and steep a tablespoon (or more) of Goji Berries for 5-10 minutes. Strain out the berries or leave them in. You can add some honey and lemon to taste. Easily turn this into iced tea with a few ice cubes.

Goji Berry Lemonade
Following the directions above, boil more water and add steep more Goji Berries depending on how much lemonade you want to make. When it comes to lemonade, I prefer leaving the berries in, it makes for a pretty drink. I added in a small spoonfull of honey while the tea was still hot to help it melt. Squeeze in fresh lemons, I used 1 and 1/2 to make a large glass. Add in ice to finish off this refreshing drink.
I enjoy snacking on these sundried berries, but they also taste great after they have steeped in hot water. Don't toss those berries, eat them!

Check out Morning Pep where you can find Goji Berries and more. You can buy their 3 sizes on . You can buy an 8 oz for $12.99, 1 lb for $17.95, or 2 lb bag for $31.99, and all qualify for free Prime Shipping.