Product was given to me in order to post my honest opinion.
I hate when I get a cut on my hand in-between my fingers or on my foot in-between my toes. These places are not the easiest spots to cover with a bandage. Hangnails are another spot that are hard to cover with a bandage, especially with my kids.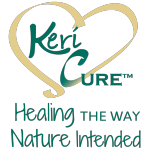 KeriCure makes a natural liquid bandage, Natural Seal, that covers cuts and scrapes, especially ones that are hard for bandages to cover. The Natural Seal covers the cut to keep it protected from germs and other elements.