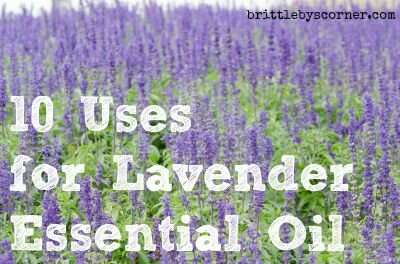 Essential Oils have become a part of my daily routine. There are so many benefits to using them and today I want to share about some of the uses for Lavender Essential Oil.
Too much sun ~ A few drops of Lavender on irritated skin will help soothe and alleviate the hot feeling. (For an added benefit of cooling, layer with Peppermint essential oil)
Sleepless nights ~ Spritzing your pillow with a mixture of distilled water and lavender will help you get a good night's sleep. You can also apply the oil to your spine, bottoms of feet, and back of neck.
Earache ~ Rub lavender on the bones around the outside of the ear when your ear begins to ache. More effective when combined with Melaleuca (AKA Tea Tree) oil, which is known to be antibacterial and can help fight off ear infections.  You can also place these oils on a cotton ball and gently set it in the ear to relieve pain. (Never put drops of essential oils inside your ear)
Anxiety ~ Lavender is commonly used therapeutically. Lavender helps calm and center the body. You can diffuse lavender, dilute it and apply to your skin, or you can inhale directly from the bottle.
Fever ~ Apply lavender to the back of your neck, on the bottom of your feet, and on your forehead to help reduce a fever. Safe to use on children.
Dandruff ~ Apply 2 drops to hands and massage into hair and scalp. Let sit for a few minutes, then wash out and wash hair like normal.
Eyelashes ~ Put one drop of lavender into your mascara and apply as normal for longer and fuller eyelashes. (One drop for the tube is enough and will last. I recommend doing this with a full tube because one drop goes a long way)
DIY Beauty/Home Products ~ If you make your own face wash, lotion, deodorant, dish soap, hand soap, laundry detergent, etc., lavender is a popular oil to add in. Each project requires a varying amount of oil, but because lavender is so diverse, it can be used in anything. It has a pleasant floral scent and can be used on all skin types.
Burns ~ Make a salve out of lavender and coconut oil to keep on hand in the kitchen. When you get a burn rub the salve over the burn for relief. Lavender also helps the burn heal faster.
If in doubt, use Lavender! I always recommend diluting with a carrier oil. You can use regular coconut oil from your pantry or you can use fractionated coconut oil (designed to stay liquid and never harden), jojoba oil, almond oil, etc. Just one drop of essential oil goes a long way when mixed with a carrier oil.
If you have any essential oil questions, email me at brittlebyscorner @ gmail.com.