I enjoy finding new sites that carry a wide variety of eco-friendly products. Mighty Nest carries products for all ages and they sent me a lunch set for my son. I was sent a lunch box, a sandwich bag, a water bottle, and stainless steel container. This will be perfect for my son as he starts Kindergarten.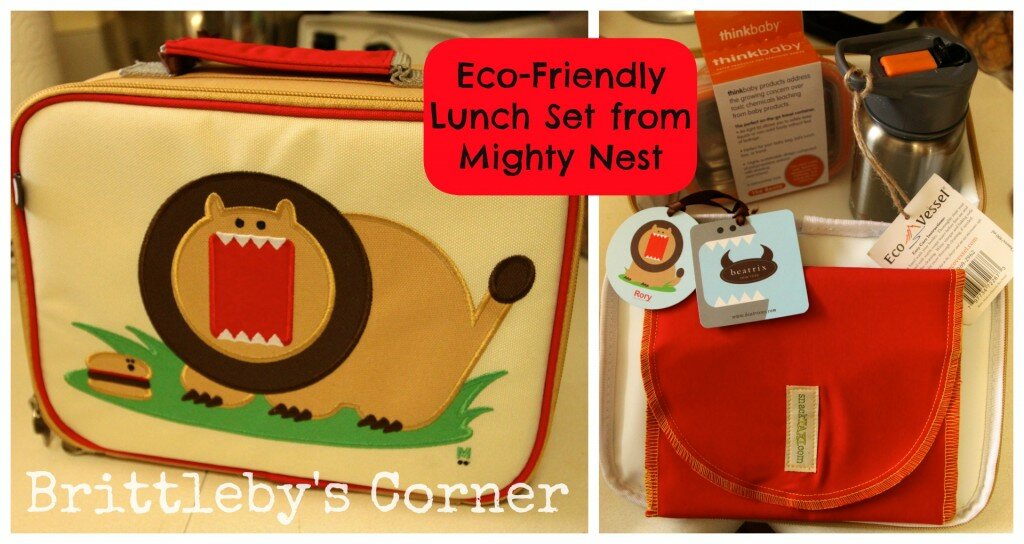 Mighty Nest provides you with the ability to research, get advice and buy natural, organic and non-toxic products all in one place. They have done research and know that every product in their store doesn't contain known toxic ingredients such as: BPA, PVC, Phthalates, Lead, Melamine, Formaldehyde, Flame retardants, Parabens and more. When you go to any store you have to check labels and read about how products are made, so it is nice to know that they have looked into everything for you and only carry the best.
My son is so excited about school, that when I showed him his new lunch set, he danced around the house. The Beatrix lunch box is insulated to keep lunch tasting fresh and not spoiling. It is made with heavy Nylon and is dishwasher safe. The back of the bag comes with a place to write your kids name and an extra zipper pocket…. maybe for notes from mom! Their bags are tested to be phalate free, PVC free and lead free. I like that the bag is soft and comes in a variety of prints to please any child. My son was given Rory the Lion, who comes with a story of his own!

The SnackTaxi reusable bag is a perfect fit for a sandwich or bagel or even crackers. I am a big fan of SnackTaxi and have previously worked with them. They make both sandwich and snack sized bags that are reusable and easy to clean.  You can wash them in the sink or toss them in the washing machine. The bags are phalate free, PVC free and lead free. SO many plastic baggies are thrown away every day, and this is a way to reduce waste.
The Eco-Vessel water bottle fits perfectly inside the lunch box. My kids are familiar with Eco-Vessel bottles and love using the taller version of the bottle we have. Their bottles are all insulated and will keep water cold for hours. My family hasn't bought plastic water bottles in years. My kids are used to reusable bottles and I am glad that this eco-vessel bottle is perfect to bring to school. Their bottles are 100% recyclable, BPA free, and made with 18/8 stainless steel. The bottle is only a single wall insulation, which means that it is not meant for hot beverages.
The Thinkbaby bento container is air-tight, so I can put soup, yogurt, or fruit in it and nothing will leak out! It expands the options of what I can put in my son's lunch. It has a stainless steel interior and a polypropylene exterior. It is also dishwasher safe.
Together this is a perfect reusable lunch set!
Visit Mighty Nest and see the different options they have for your child's back to school reusable lunch set. Create less waste this school year!
Mighty Nest will be giving away this same reusable lunch set in the Green Your School Year Giveaway Hop. Come back on August 13 for a chance to win the Grand Prize! Show Mighty Nest some love in the comments below. {Who would this be for? What is your favorite product mentioned? etc.}