I have another amazing product to share with you from Zeta Technology. I originally met up with Zeta Technology at the NPA Marketplace in Las Vegas this past summer. So far I have reviewed their Zeta Stone and Disc, and done giveaways for these and insoles. My reviews can be found here and here.
Zeta Technology produces a range of therapy products that provide pain and stress relief. Using unique patented technology, these products channel Far-Infrared and other energies to the body, reducing pain, swelling, and surface bruising. Use Zeta therapy products to help treat arthritis, repetitive stress injury, muscular inflammation, and to provide overall stress relief.
I was able to review their Pain Relief Pack, which is a non-toxic hot/cold pack. To make the pack warm, heat it in the microwave or in warm water. To make the pack cold, place it in the freezer or refrigerator. This pack can be used for body aches, stiff joints, sore muscles, arthritic pain, swelling, and cramps.
I have to admit that I wanted this pain relief pack for cramps! I use to have a heat pack that had to be plugged in, but I hated using it at night. Now I can use the pack all night without worrying about a heat pack being plugged in. I have honestly used the pack more at room temp than any other way. It naturally stays cool and feels really good on my stomach for cramps. I was surprised at this because I thought I would need it warm. I don't have horrible cramps, so if you do, maybe you will want to heat it up. As the cooler months come, I will probably heat it up when I need to use it.
Here is a short video that explains a little more about the Pain Relief Pack.
You can purchase the Pain Relief Pack on Zeta Technology's website for $39.99. You can also purchase their other natural pain relief items online.
Connect with Zeta Technology on , and .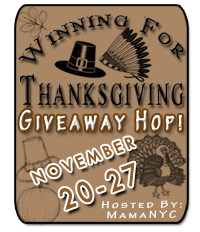 Zeta Technology is giving away 2 Pain Relief Packs in the Winning For Thanksgiving Giveaway Hop! There will be 2 winners who will each receive 1 Pain Relief Pack. Please come back on November 2oth to enter to win. Interested in getting an extra entry? Visit Zeta Technology and tell me something you learned or another product you would like to try in a comment below.