I am excited to share with you another product/company that I was introduced to at the NPA Marketplace. And of course, the product is made in the USA!
Zeta Technology produces a range of therapy products that provide pain and stress relief. Using unique patented technology, these products channel Far-Infrared and other energies to the body, reducing pain, swelling, and surface bruising. Use Zeta therapy products to help treat arthritis, repetitive stress injury, muscular inflammation, and to provide overall stress relief.
I was given a Zeta Touch Stone and Disc to review. The Zeta Touch Stone is a hand therapy product that provides pain and stress relief. It comes in two sizes: 1" and 1.7". The ball can easily roll between hands and can be gripped to produce a desired effect. The ball is perfect for those that suffer from arthritis, repetitive stress injury and stroke recovery. The touch stone does not need to be heated or chilled to be effective, it just needs to be in contact with your skin. However, by increasing the temperature of the stone, the far-infrared emission will be stronger.
The Zeta Disc is an alternative to traditional heat and cold packs. They help provide relief from pain, swelling and surface bruising. Zeta Discs come in two sizes: 1" and 1.5". The discs can be placed directly on the affected area or around a desired area. Discs can be held in place by using a band-aid or medical tape. For bruises, apply at night and secure with tape or a band-aid and check in the morning. Repeat if necessary.
When using the Zeta Discs for hot/cold therapy, it is best to alternate hot and cold every 30 seconds to 2 minutes and repeat the process for five cycles. This process can be repeated 3 times daily. Used locally – contrast therapy using the Zeta Disc as recommended offers a rapid, safe and precise approach to the this form of treatment. It can be useful in the easing of pain, reducing localized inflammation and increasing superficial circulation.
You can make either the touch stone or disc cold by placing it on an ice cube for 30 seconds or chilling it in the freezer. The ideal range for cold therapy would be between 40-65 degrees. To make the touch stone or disc hot, submerge it in warm water at the desired temperature for 30 seconds or longer. The ideal range for heat therapy is 99-114 degrees.
There are precautions:
Each person reacts differently to the application of heat & cold:
• Do not microwave, boil.
• Do not overheat or under cool product to avoid harming the skin or tissue.
• Do not use on open wounds or open sores.
• In the event of skin irritation or other discomfort, discontinue use. If irritation persists, see a physician.
• Not suitable for persons with diabetic neuropathy, heart disease or kidney infection, a history of frost bite or cold related injury, or peripheral vascular disease.
• Heat and cold therapies should not be used by persons with any kind of metal implants.
I bruise like a peach, so I am so excited to try out the disc! Unfortunately

these past three weeks have resulted in no bruises, so I didn't get to test it out completely. I have been riding my bike every morning and doing Zumba twice a week for the past 2 weeks and I am starting to feel sore, especially in my ankles. I am going to use the disc tonight to see how if it can help with that pain. Both my husband and I have used the touch stone over the last three weeks. I can say that the the far-infrared really worked because I did it while wearing my wedding ring and all of the sudden it felt tight. I found out the the far-infrared is related to heat and therefore will dilate capillaries. My finger swelled a little and I had to take my ring off (my fingers swell easily, especially during the summer). It was a neat experience to actually see my hand respond to the ball. As a blogger, I spend a lot of time typing and this has resulted in hand cramps and soreness. I am so glad that I have this ball to help me in these situations. My husband is currently getting his Masters degree and therefore is typing a LOT!!! This ball has come in handy for him already and will continue to do so when he goes on to get his Doctorate and is w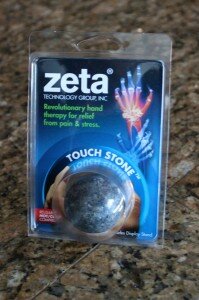 riting his dissertation!
Zeta Technology also offers insoles, an acupressure ball, a trigger point and a wheel, all of which produce the same far-infrared energy and have specific uses in order to bring you pain and stress relief throughout your body. You can buy all of their products on their website. The 1.7 inch touch stone I received was $30 and the 1 inch disc was $12.
Connect with Zeta Technology on their website, , and .
Zeta Technology is sponsoring a Made in the USA prize pack! This pack includes either a Touch Stone or a set of 3 Discs valued at $30-$36! The giveaway will go live on July 4th and end on the 13th! Please come back on the 4th to enter to win this #USAMade package along with other USA made prize packs.
Interested in getting an early entry? Visit Zeta Technology and tell me something you learned or another product you would like to try in a comment below.
Thank you to Zeta Technology Group for providing the products mentioned in this post for review. Although I received these products at no charge, all opinions expressed in this post are my own.