Product was given to me in order to post my honest opinion.
My kids are fascinated by electronics! I choose to limit their screen time, but they love playing games on the computer. I loved playing educational games growing up, so I can relate to their desire to play on my computer. Over the summer my kids were allowed to play on the K5 Learning site.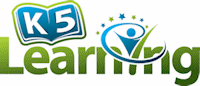 K5 Learning is an educational site designed for kids from Kindergarten through 5th grade with a focus in reading and math enrichment. This personalized online learning program is designed to help kids build reading, math and study skills.
The lessons are personalized for your child's level of learning. To start the program, the child takes an assessment to decide where they need to start in the program. On the main page you can access the free assessment as well as some free lessons. K5 Learning offers a free 14 day trial with no credit card required! This is the perfect way to see if this program will work for your child.