Product was given to me in order to post my honest opinion.
My kids are fascinated by electronics! I choose to limit their screen time, but they love playing games on the computer. I loved playing educational games growing up, so I can relate to their desire to play on my computer. Over the summer my kids were allowed to play on the K5 Learning site.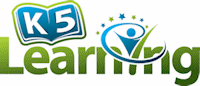 K5 Learning is an educational site designed for kids from Kindergarten through 5th grade with a focus in reading and math enrichment. This personalized online learning program is designed to help kids build reading, math and study skills.
The lessons are personalized for your child's level of learning. To start the program, the child takes an assessment to decide where they need to start in the program. On the main page you can access the free assessment as well as some free lessons. K5 Learning offers a free 14 day trial with no credit card required! This is the perfect way to see if this program will work for your child.
My daughter was excited to start Kindergarten this year, so when I told her that she could start reading and practicing math over summer, she was thrilled. She enjoyed playing on my computer asked to play the educational games. The K5 Learning program is more educational than entertaining. Your kids will actually learn through this program and is not just a time filler. I tried to explain to my kids that there is time for both fun non-educational games and those that are trying to help them learn.

My son, who just started 1st grade, enjoyed the math portion of K5 Learning. He has been fascinated with addition and subtraction for a while and I love that he was challenged in math since that isn't really a focus in Kindergarten.
A benefit to K5 Learning is that kids can go at their skill level, rather than their grade level. This works well for kids who ahead of their classmates and grade, and are given a challenge at home. Kids can do this independently and feel a sense of accomplishment! Even Kindergarteners are able to navigate through the site to do their lessons. This even works well for working or busy parents since the program is designed for the child to do their own. Parents are sent reports so they can check on their child's progress.
I highly recommend this program as an after school study. After the 14 day trial, you can choose to pay monthly or annually. There is also a discount if you are registering more than one kid. Don't forget to check out the free worksheets.
You can connect with K5 Learning on and .

If you have kids in elementary school, I encourage you to check out the K5 Learning website for the free assessment and free 14 day trial! Check out the program to see if it will help your child(ren).