Product was given to me in order to post my honest opinion.
Each year, Nordic Naturals looks for ways to empower young people in their pursuit of education. This year, Nordic Naturals has partnered with 'Big Brothers Big Sisters' (BBBS), an internationally recognized non-profit that seeks to provide children facing adversity with strong, professionally supported one-to-one relationships that change their lives for the better, forever.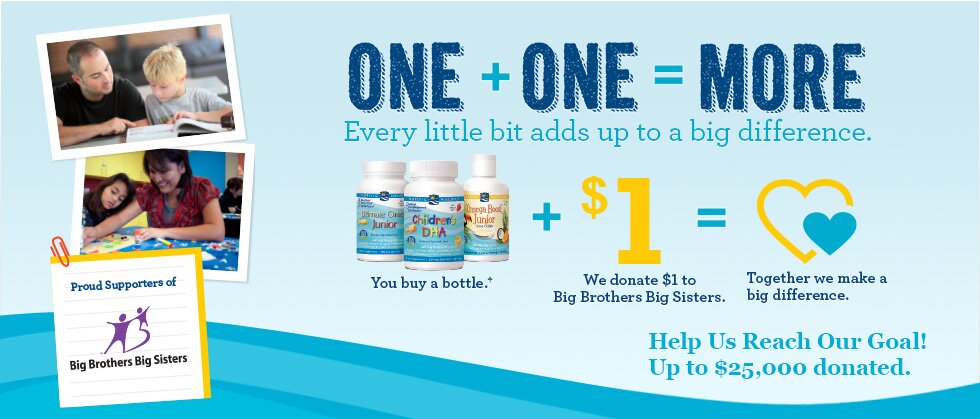 From July through September 2015, every time a consumer purchases a bottle of Nordic Naturals children's products, the company will donate $1 to the life changing work of BBBS, for a total contribution of up to $25,000. All bottle sizes of Nordic Naturals children's products qualify for the promotion, including the company's best-selling Baby's DHA, Children's DHA, Omega Boost Junior and Nordic Berries.


I was given the opportunity to try Nordic Natural's Omega Boost Junior. Every morning my kids kindly remind me for their vitamins. I personally view vitamins and supplemental nutrients to the foods they eat. We try to eat a balanced diet, so I give them certain vitamins that I feel they need. One such supplement is omega-3s. Omega-3 is directly related to the immune and nervous system and is therefore an important supplement.
The Omega Boost Junior comes in a 6 oz. bottle and must be refrigerated. Only a 1/2 teaspoon in needed a day. One serving offers 285 mg of omega-3. My children have tried a supplement like this before, so they were used to the creamy texture. The flavor is Paradise Punch and it doesn't contain any artificial coloring, flavoring, or preservatives. It also supports brain and eye health.
My kids love this stuff! They remind me every morning for their liquid vitamin. I am a huge fan of Nordic Naturals and have tried a majority of their products. I love the company and their products. This Omega Boost Junior fits perfectly in their line of children's supplements.
If you are in the market for children's supplements, check out the variety that Nordic Naturals has to offer. You will find them at your local health food store, various online shops, and amazon.
Connect with Nordic Naturals on and .
Nordic Naturals would like to give one of my readers a prize package including: Omega Boost Junior, Nordic Naturals T-shirt, Swag Bag, 'Brainiacs' a book by Dr. Heather Manley, and 'Amazing Grades' a book by Pat Wyman. Enter to win this $60+ package on the Rafflecopter form below. This giveaway is open to US residents only and ends 8/31. Good luck!