Product was given to me in order to post my honest opinion.
I love diffusing essential oils in my home. Whether it is to purify the air or give a welcoming scent to visitors, my diffuser is going everyday. For this reason, I prefer to have one in every room to maximize the benefits.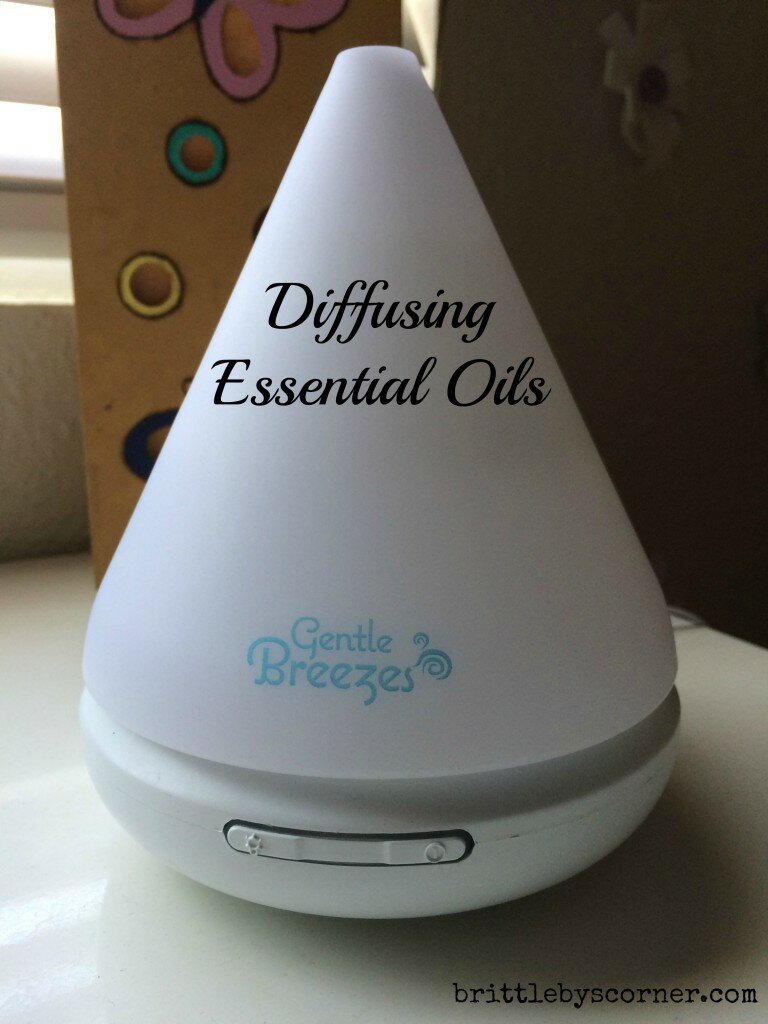 Over the last few weeks my kids have had colds, which has included runny noses and coughs. This summer cold is almost over, but they both have a linger cough that seems to get worse in the evening. When I diffuse appropriate oils in their room at night, I notice that the coughing goes away or is significantly less. If you want more info about what oils I recommend diffusing for an evening cough, email me or leave a comment below.

I recently had the opportunity to try the Gentle Breezes Ultrasonic Essential Oil Diffuser. The water system design creates a constant fragrant mist. The water is not heated, so the essential oil properties stay in tact. You can diffuse any essential oil in this diffuser, even one to repel mosquitoes during summer. Like I stated earlier, I use have been using the diffuser in my kids room to help with their dry coughs, but you can use it for sinus issues, to relieve dry skin, flu symptoms, and make the air smell good.
The Gentle Breezes Ultrasonic Essential Oil Diffuser can cover 250 to 300 square feet of aroma space. It also features a mood or night-light with 7 interchangeable soft LED colors. You can choose to display one specific color, have all 7 colors interchange, or no color, but a soft white light at the base.
To use the diffuser, remove the top part, fill the basin with water to the line, and add your essential oil. I use about 5 drops depending on the fragrance and the aroma strength I want. Replace the top part and plug the diffuser in. There is also a convenient place to disconnect the cord from the base of the diffuser, so that the plug can always stay in the wall and you can safely add in your water with no cord in the way. To turn it on push the right button. It automatically turns on the interchanging lights. You can then push the left button to pick no light first, and continue to push the left button to pick one continuous light. To turn it off click the right side. The diffuser will automatically run for about 7 hours and will shut itself off when there is little water left in the basin.
I love diffusing oils all the time. Right now this diffuser is serving its purpose in my kids room, but it may change locations throughout the house when needed. I like this one for my kids room because it is super quiet and with the no color setting, it is perfect for night time.
I have been using this diffuser for three weeks now and I love it. It is a great option for anyone looking for a diffuser, whether it is for a spa, a classroom, office, or home. You can currently buy the Gentle Breezes Ultrasonic Essential Oil Diffuser on amazon for $49.95 and it qualifies for Prime shipping. When you purchase the diffuser from amazon, you also get a free eBook with essential oil differ blends and recipes. This diffuser is lightweight, so you can take it with you on vacation. I always take my essential oils with me because you never know when you will need them; same goes for the diffuser!