Product was given to me in order to post my honest opinion.

If anyone ever gifted me a monthly subscription box, I would be ecstatic! I love trying out new products and being exposed to new companies and products. Of course there are some companies whose mission for sustainability and eco-friendliness outweigh others. GlobeIn is one of those amazing companies that is committed to artisan-made products from around the world that are Fair Trade and made with sustainable sources.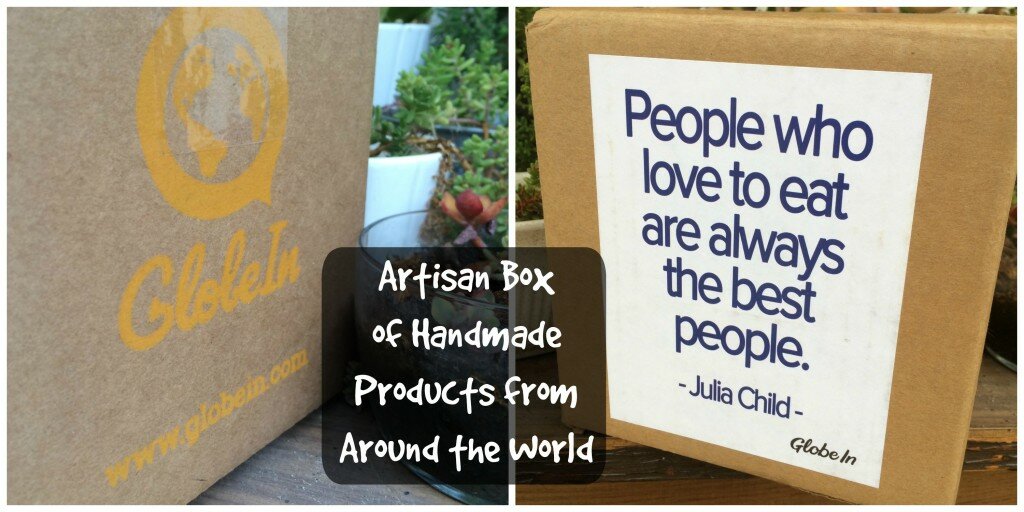 GlobeIn has an online shop where you can purchase these products that are made all around the world, but they also have a monthly Artisan Box. The box features a new theme every month.

The Refresh Box includes a hand painted candle, yerba mate tea, dead sea mud soap, hemp washcloth, and shea shampoo, which all comes in a hand woven basket.

The Kitchen Box is the Artisan box from February that I was able to review! I love this box and all its contents!

Fez Mini Tagine by Le Souk Ceramique in Nabeul, Tunisia
The Tagine is hand thrown and painted with food safe paints and glazes. While it is not safe for the oven or stove-top, it makes a great container for storing salt or other spices. It can also be used as a condiment dish. I love the green paint and design!
Kitchen Towel by El Tun in Antigua, Guatemala
I love that this handwoven towel matches my Tagine. It was made on a Treadle Foot Loom and is highly absorbent. It has added beautiful color to my kitchen.
Pure Ground Vanilla by LAFAZA in Madagascar
I had never heard of powdered vanilla before my Artisan Box! LAFAZA has made a delicious ground vanilla that can be used instead of vanilla bean or vanilla extract in your baking, smoothies, coffee, and wherever you want that sweet vanilla flavor.
Inka Salt by Natierra in the Sacred Valley of Peru
Inka Salt comes from deep within the Andes Mountains. It is only obstianed by natural evaporation from the sun and its effects. The pink salt not only flavors your food but delivers magnesium, iron, calcium and zinc. I use this over table salt.
Coconut Sugar by Big Tree Farms in Java, Indonesia
Coconut sugar has a low glycemic index, which makes it the perfect natural sweetener for everyone. It is also high in nutrients and has 16 vital amino acids. You can use coconut sugar the same way you would use regular sugar, it is a 1:1 ratio. Coconut sugar is is not white, but has a blonde color to it. It can even replace brown sugar with its rich flavor.
Coffee by Boca Java in Nicaragua
Boca Java works directly with Nicaraguan coffee farmers to create their coffee blend. The light to medium roast has sweet-nutty cocoa flavors, with undertones of berries, vanilla, and honey. I am not a hot coffee drinker, but I do enjoy adding grounds to my morning smoothie to give me a little energy in the morning!
I am truly loving my Kitchen Artisan Box! I love the green colors of the Tagine and the towel, and I love that I was able to try new salt, vanilla, and sugar…3 staples in my kitchen! The box was nicely put together and I especially love the hand woven basket that the products came in. The baskets are hand woven with palm leaves and dyed with natural colors by Martina Garcia in Oaxaca, Mexico.
You can find out more about GlobeIn by visiting their site. If you are looking for a great gift then I highly suggest their Artisan Box. You can buy one box for $50 or you can subscribe for a monthly payment of $35. You can also browse their online store for Fair Trade products.
Connect with GlobeIn on , , and .