I love when the weather outside cools down and I get to start wearing scarves and boots and cozy jackets. I also love drinking hot tea. Tea instantly warms me up and is readily available in many flavors to compliment my mood. Tea also makes a great thank you gift to bring to Holiday parties, a great teacher's gift, or just a gift to a friend or family member.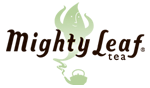 The Cat Lovers Rooibos Tea Set contains whole African rooibos tea leaves, mango, vanilla and blossoms in Organic African Nectar by Mighty Leaf Tea.  The set comes with a handmade Yixing mug with a handle shaped like a cat.  This makes a great gift for a cat lover.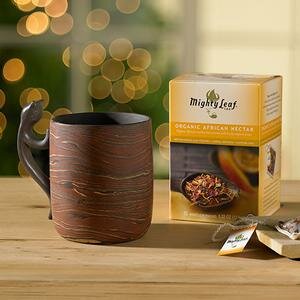 Mighty Leaf Tea Organic African Nectar
Leaves:  Fine, needle-like rooibos leaves, dried flowers
Aroma:  Lively tropical notes
Color:  Jewel red liquor
Taste:  A rich and full bodied herbal infusion,  honey-like and tropical
What Makes Mighty Leaf Tea an Other-Worldly Experience:
Hand-picked whole leaves, blossoms, herbs, fruits, and spices
Hand crafted artistry of carefully chosen blends
Flavors and nuances that dance on your palate
Silken to the touch, hand crafted hand-stitched tea pouches
Yixing clay, sourced near Shanghai, has been used to make tea pots for at least 500 years. The interesting variation in color is due to the different depths from which the rocks were extracted and the firing methods used. Porous enough to absorb flavors from tea, Yixing tea ware is said to have "memory." Connoisseurs believe this tea ware concentrates flavors of subsequent cups.  To benefit fully, dedicate your Yixing mug to a single type of tea (black or green tea etc.)  In old times, Yixing-ware was rinsed but never washed. They are also stunning to the eyes and ears. You can tap on a Yixing mug and enjoy the beautiful low-pitched metallic sound it makes.
Mighty Leaf Tea was founded by husband-and-wife team Gary Shinner and Jill Portman, who turned into reality their dream of infusing new life into the ancient indulgence of tea.   In our carefully chosen blends you will find all natural ingredients including hand-picked whole leaf tea, blossoms, herbs, fruits, and spices.  Our vibrant leaves and blossoms are too big for ordinary tea bags, so we designed our own silken, artisan Tea Pouches™.  We hand-stitch them with unbleached cotton, without using glue or staples.  Seriously, these are the largest tea pouches you have ever seen! Satiate your senses with our wonderfully full and nuanced flavors and intoxicating aromas.
You can purchase this set online for $34.95, but it is currently on sale for $24.95!
Connect with Mighty Leaf Tea on , , and .
Mighty Leaf Tea would like to give one of my readers a chance to win a Cat Lovers Rooibos Tea Set. This set comes with a handmade Yixing mug with a handle shaped like a cat and Organic African Nectar Tea. Enter on the Rafflecopter form below. This giveaway is open to US only and ends 1/2. Good luck!
a Rafflecopter giveaway