Product was given to me in order to post my honest opinion.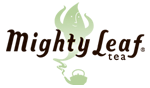 Mighty Leaf Tea has created a wonderful line of whole leaf teas. The Taste of the Tropics Gift Sampler comes with three boxes of teas. Each box has 15 whole leaf tea pouches. This gift set includes a 15 count Tea Pouch box each of: Green Tea Tropical, Vanilla Bean, and African Nectar. Tea Pouches are individually packaged in cello wrap.

Smooth green tea leaves meet sweet tropical fruits in the Green Tea Tropical tea. In the Organic African Nectar, Organic African rooibos leaves mingle with mango and flower blossoms. Inhale the heady aroma of Madagascar vanilla beans mingled with whole Ceylon and China black tea leaves in Mighty Leaf Vanilla Bean. These tropical scents are sure to take your mouth and senses on a vacation!
I really like the way that Mighty Leaf Tea has designed their tea bags. Check out the info-graph below:

If you need something to take your tea in, check out the Mighty Leaf TeaTop Brew Mug. Give up to-go cups and steep tea pouches in the commuter brew mug.  Say goodbye to over-steeped tea and messy pouches.The used tea pouch nestles inside the lid.
The brewing system is simple: Fold the tea tag in half and thread through the underside of the slit on the lid. Once the brew time indicated on the tea tag is reached, just pull up on the string. This squeezes the oils of the Tea Pouch into the infused beverage below and pulls the spent Tea Pouch up to rest in a domed area. The body is crafted of double-walled stainless steel keeping your tea hot, while staying cool to the touch.
In honor of Mother's Day, Mighty Leaf Tea has teamed up with Katie Hafner, author of Mother, Daughter, Me, to give away an awesome prize package.

Mother's Day is about good feelings and good memories. It is also a time to reflect on one of the most complicated relationships we will have in our lives. The relationship with mom. The novel Mother, Daughter, Me by Katie Hafner has lessons for all of us.
From the back cover, "Filled with the fairy-tale hope that she, her seventy-seven-year-old mother, and her daughter will become a tight-knit family, Katie embarks on an experiment in inter-generational living that brings up unnerving memories of her parents' painful divorce, of her mother's drinking, of dislocating moves across the country, and of Katie's own widowhood and bumpy recovery."
What have readers said about the book? "There is a lot that happens in mother-daughter relationships that never gets resolved and this book helped me think some of these things through." It was named one of the best memoirs of the year by Oprah.com. Described on Oprah.com, "Real stories, real women, real lessons that will shake you up and set you back down—changed for the better (and stronger)."
You can find the book on . Here are some reviews from Amazon:
"The most raw, honest and engaging memoir I've read in a long time."—KJ Dell'Antonia, The New York Times
"A touching saga that shines . . . We see how years-old unresolved emotions manifest."—Lindsay Deutsch, USA Today
"Scrap any romantic ideas about what goes on when a 40-something woman invites her mother to live with her and her teenage daughter for a year. As Hafner hilariously and touchingly tells it, being the center of a family sandwich is, well, complicated."—Parade
Connect with Mighty Leaf Tea on and .