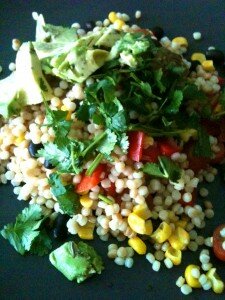 If you have noticed a theme, I love Mexican food. This recipe is very similar to the Mexican Quinoa Salad, but the grain gives a very different taste. I think when I was originally introduced to both of these salads, they were very different, but I took ideas from both and combined them. To be honest, if I could choose just one to eat, it would be this one! I think quinoa is better for you, but I love the way the Isreali couscous tastes in this mix.
Israeli Couscous Mexican Salad
Ingredients
1 cup Israeli Couscous
1 red bell pepper, chopped into bite size pieces
1 can black beans, drained and rinsed
1 heaping cup of frozen organic yellow corn
handful of sliced tomatoes
handful of chopped cilantro
1 lime, juiced
green salsa
1 avocado chopped into bite size pieces
Instructions
Cook the Israeli Couscous according to the package directions.
Once cooked, add black beans and frozen corn to hot pot to warm up.
In a large bowl combine the red bell pepper, tomatoes, cilantro, salsa and lime juice. Mix together. Add the Israeli Couscous mixture and toss together.
Season with salt and pepper. Taste and adjust lime juice and salsa if needed. Before serving, add chopped avocado.
Enjoy!