1.6K Flares
1.6K Flares
×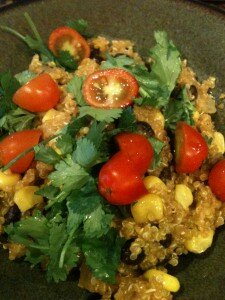 Ingredients
3/4 cup uncooked quinoa
1 1/2 cups water (or chicken or vegetable broth)
Dash of garlic powder
Dash of ground cumin
Dash of salt
Dash of freshly ground black pepper
1 cup frozen sweet white corn
1 15-ounce cans black beans, drained and rinsed
Handful of chopped cilantro
Handful of grape or cherry tomatoes, sliced in half
Green Salsa (optional)
Avocado (optional)
Add the quinoa to a pot and cover with water/broth. Stir in spices. Bring the mixture to a boil. Cover, reduce heat and let simmer for 20 minutes (or until all the liquid is absorbed). When the quinoa is done, throw in the frozen corn and black beans and cover for about 5 minutes. After, add in remainder of the ingredients (into pot or transfer to a bowl), mix well, then serve and top with additional cilantro if desired. You can also eat it with tortilla chips or add them on top!
If you would like it a little spicier, you can add a dash cayenne pepper when making the quinoa. I also like to add some fresh lemon juice right before I eat the salad!
Enjoy!
If you are looking for more salad recipes check out the Summer Salad Linky on my blog. I am also linking up to  Coping with Frugality and Delicious Dish Tuesday, check out all the recipes linked up there as well!