Protection from the sun is no laughing matter and there's no better time than now to educate yourself and your loved ones on the importance of sun protection. Betsy Johnson, founder of
SwimZip
, and myself, founder of
pello
, are two moms and fellow skin cancer survivors who want to share our stories for Skin Cancer Awareness Month. Both of us are heading this giveaway and are excited to have so many brands on board which support safe skincare and sun protection practices!
ONE LUCKY WINNER will receive a grand prize package of 8 prizes!
Open to U.S. residents only.
Everyone who enters the giveaway will receive something special after the giveaway as a thank you.
The giveaway will run to May 22nd.
Entering is easy and can be done below via our Rafflecopter.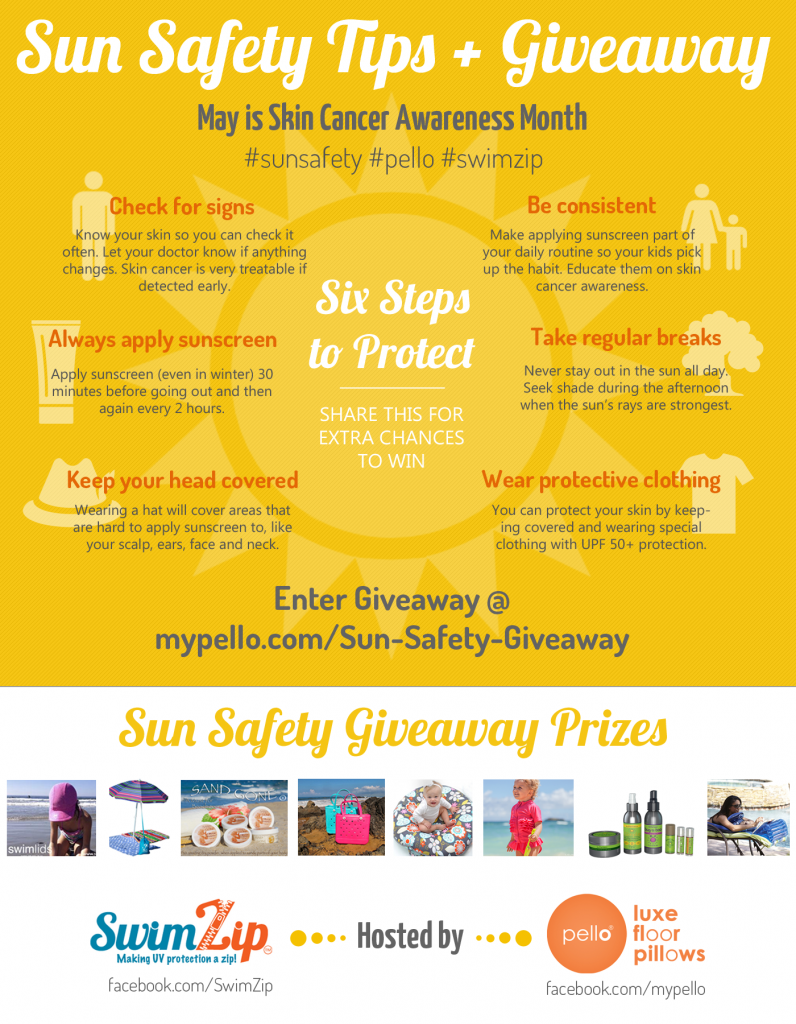 Below the entry widget are all the prizes! Check them out! We also encourage you to check out our sponsors who have amazing blogs you should follow.
REMEMBER….the more points you earn the better chance you have to win! Enter here:
So what are the AMAZING prizes? (Giveaway Open to U.S. residents only):
SwimZip


SwimZip swimwear is the brand parents trust for stylish kid swimsuits with fantastic UPF 50+ sun protection. SwimZip UV swimwear makes award winning baby swimsuits, toddler bathing suits, and child swimwear. Parents love SwimZip's signature full length zipper on its rash guard swim shirts, which make them incredibly easy to put-on and take-off. Whether it is ruffles, bows, flowers, polka dots, or adorable patterns, award winning SwimZip swimwear has the look that toddlers and parents love. Seen on the children of celebrities, on Shark Tank, and sold around the world, SwimZip makes stylish UV sun protection swimwear a zip!
pello

The pello is a distinct, donut-shaped floor pillow with raised edges, ultra-soft plush brushed poly and cotton fabrics and a padded center that benefits a child at all stages of development. It is machine-washable, can be thrown into the dryer, and is durable and portable for mothers on the go. Every pello has two side handles enabling it to be folded in half like a taco and easily portable. Each pello also includes a pocket with a loop inside to hold baby items. In addition, loops on the side of the pello keep toys at bay. pellos are made with the best materials. Our fabrics are handpicked and each pello is filled with 100% new polyester fibers. This helps the pello maintain its integrity and durability through countless machine washings. Also, the pello has been tested by the State of Ohio and is registered with the federal government's Consumer Product Safety Commission.
The Noblo

The Noblo Umbrella Buddy is a practical, problem-solving product that anchors umbrellas for safety and sun protection. Invented by two moms to stop fly away beach umbrellas (and the injuries that can result from this), Noblo is a simple to use beach umbrella anchor. Three easy steps: 1) Fill Noblo with sand, 2) velcro to beach umbrella, and 3) relax at the beach. Noblo will take care of your beach umbrella.
Sphinx by Castle & Bay

Bridging the gap between inflatables and hard chairs the portable two-piece Sphinx Personal Lounger™ is perfect for the reader, the meditator, the sunbather and certainly the traveler. Not only can you read on your belly in comfort but use it face up and put the media holder under your knees as a bolster, or use it as a lap tray, a kick board in the water or a meditation cushion! It has its own cup holder and cooler and comes in a handy mesh carry bag.
Sand Gone

Sand Gone is a dry powder that when applied to sandy parts of your body removes the sand leaving your skin soft and smooth. All natural ingredients with a coconut fragrance. Works on both wet and dry sand. A must for beach goers or after playing in the sand.
Swimlids             
Swimlids will change the way you think about a sun hat. The fabric is constructed of UPF 50+ fabric. Unlike baseball hats or floppy sun hats, Swimlids will stay on your head during active water play. They are perfect for water aerobics, surfing, boating, or a windy beach day. A 2015 Family Choice award recipient, Swimlids are sure to provide you and your family with some much need sun protection this summer. Swimlids are available in sizes S-Xl – so we have everyone in your family covered. If you are an active person and you care about sun protection, Swimlids is the best sun protection hat out there. Swimlids are mom invented and patent pending. Swim. Splash. Play. Protect.
Bogg™ Bag

Lack of beach bags that could suit a family's needs sparked the creation of the Bogg™ Bag. Needs were simple: a bag large enough to carry everything, that wouldn't fall over and spill, and that could be rinsed at the end of the day. After coming up short, the founders decided to make their own. Use at the beach, pool, gym, school, for shopping or play, the Bogg™ Bag comes in three great sizes and many great color options. You'll look great carrying them wherever you go! Want to make your Bogg™ unique? Customize and accessorize with fun Bogg™ bits accessories. Fun. Functional. Fashionable.
Butterbean sunscreens use healthy natural and organic ingredients that protect the skin, while complimenting the relationship of people to their environment. These natural sunscreens are water resistant, contain non-nano particle zinc oxide, and offer broad spectrum protection from UVA and UVB rays. The original Butterbean comes in a 3oz and 7oz container. Simple sunscreen is offered in a pump spray bottle in 4oz and 8oz size.
Sponsors:
Events, activities and parenting info for families in Fairfield County CT
http://westport.macaronikid.com
My blog is family friendly with product reviews, lifestyle postings and giveaways.
Wishy Life Buddies: The Original Easter Tradition provides families with an interactive Easter tradition. Children bring their 'Buddy' to life by naming him and sprinkling him with Wishy Dust. For a week leading up to Easter Sunday the child will leave out an empty Easter egg in hopes their 'Buddy' will fill it with something special (candy, gum, money, note/scripture, etc.) 'Buddy' only rewards those who do good deeds and show respect. Each morning the child will wake up and search for his reward egg. 'Buddy' leaves on Easter Sunday but promises to return the following year to look after his new family and friends.
Wristy Buddy is a one-piece teething wristband.
Everything is always GREEN at Brittleby's Corner! As a mom, I think life should be simple and organic ~ going green is not as hard as it seems. See all the wonderful natural products I have discovered and even some I have made.
Baby Bump Bundle offers handpicked pregnancy products curated in boxes for mom-to-be by trimester & gift bundles for newborn babies and nursing new mothers!
Star Kids Products is an innovative children's product manufacturer that specializes in making fun and safe products for busy, traveling families. We specialize in safe and easy-to-clean products to make life easier when traveling with children whether via car on road trips, railroad or by plane.
http://www.starkidsproducts.com
I am a busy lady who takes on too many projects while trying to manage the chaos I call my life. I blog about my life as a mom, wife, business owner, homeschool mom, obsessive organizer,etiquette guru, fitness newbie, paranormal investigator, bigfoot researcher, podcaster, and any other title I decide to give myself.
My name is Kathy and I'm the owner of Kathy's Savings. I've been married for 6 years and I have two wonderful daughters at the ages of 4 and 6. I love to blog about travel, giveaways, reviews, recipes, crafts and so much more.
Lifestyle blogger. Mostly reviews, online deals, recipes and gardening.
I have been blogging for over 5 years. I love reviewing products and holding giveaways.
Family friendly advice, parenting, reviews, giveaways and more!
New Age Mama is a blog dedicated to finding you the best products on the market for your home and family. We search the internet so you don't have to. Find reviews, giveaways, freebies and more!
Beautifully BellaFaith chronicles the life of a single, young mother raising her 5 year old daughter, while also offering insightful product reviews, exciting giveaways, yummy recipes, fun crafts and helpful organization tips!
 Hi there!! I am Stacy aka Dnbuster! I am a proud mom of 3 kiddos from Texas!! I am an Ambassador for many products. Blogging has given me chance to travel and attend events with my kiddos!
Lifestyle Blog with tips on parenting, recipes, crafts, trips and so much more
My blog is currently a compilation of a variety of product reviews, book reviews, giveaways , and my journey through pregnancy number 2.
Mommy Knows What's Best is a family and parenting site that features parenting advice and tips along with reviews and giveaways. By sharing what works best for my family, I hope to help make your parenting life a breeze!
A lifestyle blog offering encouragement, parenting tips, reviews and giveaways, creative games and freebie scavenger hunts, inspiring stories, and suggestions on Central Florida Family Entertainment.
http://love2encourageyou.com
This promotion is in no way sponsored, endorsed or administered by, or associated with, Facebook. We hereby release Facebook of any liability. Giveaway is open to US residents only. Winner(s) will be contacted by email 48 hours after the giveaway ends. If you have any additional questions – feel free to send us an email: [email protected]. pello is not liable for any of the products given away, except for the pello luxe floor pillow. Each brand may send you a thank you email with a special offer once the giveaway is over.
Once the giveaway is over, the brands shown above may send you one email with an exclusive offer as a thank you for entering.