Product was given to me in order to post my honest opinion.
There are so many health supplements available on the market today. Natural Goal has put together a line that will help you feel your best, naturally.
Oregano oil is an important supplement that supports your immune system. Oregano Oil comes in a pure oil form or encapsulated for easy ingestion. Oregano improves gastrointestinal health, supports healthy digestion, and promotes healthy bone growth and density.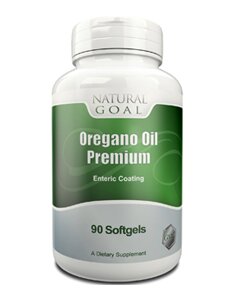 The capsules are coated with a highly potent Carvacrol compound which is directly involved in inhibiting harmful micro-organisms that cause many diseases and complications. The capsules are made up of: Oregano Oil (origanum vulgare) (min. 55% Carvacrol) 181.0mg, Ginger Oil (Zingiber officinale) 17.6mg, Fennel Oil (Foeniculum vulgare) 19.3mg. Other ingredients include: Extra Virgin Olive Oil, Gelatin, Glycerin, Water, Enteric Coating, and Carob. There is no sugar, salt, starch, yeast, wheat, gluten, corn, soy, milk, egg, shellfish, or preservatives in these capsules.
Benefits:
The capsules are designed to be easily ingested.
Taking oregano daily is beneficial to the body. A small amount goes a long way.
It is recommended that you take 1-2 capsules daily with food. I take one every morning and if I start to feel a little under the weather, then I take a second one.

Pure oregano oil has many uses. It is an essential oil in its purest form which is undiluted. Oregano oil is considered an Antiseptic, Analgesic, Anti Rheumatic, Antispasmodic, Antitoxic, Antiviral, Bactericidal, Carminative, Choleretic, Diaphoretic, Diuretic, Emmenagogue, Expectorant, Febrifuge, Fungicidal, Parasiticide, Stimulant, and Tonic. There are many uses for oregano essential oil, but it should be diluted with a carrier oil such as almond, jojoba, grapeseed, or olive.
You can buy Natural Goal products on Amazon. They have a wide variety of health supplements to choose from including Milk Thistle, Green Tea, Primrose, and more.
Connect with Natural Goal on , , and .