The Santa Baby Giveaway is here to celebrate the holidays and promote safe sleep for babies! Not only are we getting into the holiday spirit, but we're also helping families by giving them the gift of sleep in 2015! Giveaway will run from December 19th through January 2nd. The awesome prizes include gifts that aid with sleep and cool products for baby and kids!
ONE LUCKY WINNER will receive a grand prize package of 30 prizes!
Open to U.S. residents only.
Everyone who enters the giveaway will receive something special after the giveaway as a thank you.
The giveaway will run to January 2nd.
Entering is easy and can be done below via our Rafflecopter.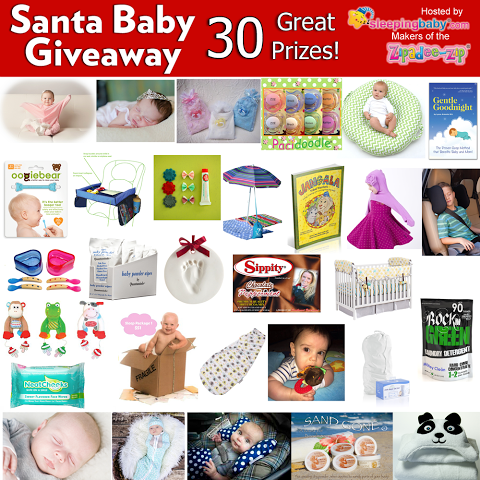 Below the entry widget are all the prizes! Check them out! We also encourage you to check out our sponsors who have amazing blogs you should follow. Good luck!



So what are the AMAZING prizes? (Giveaway Open to U.S. residents only):
Sleeping Baby – Home of the Zipadee-Zip
The Zipadee-Zip is a solution for transitioning baby from swaddling and is also the perfect sleep garment for babies and toddlers. It provides babies with the snug feeling of security while allowing for the freedom of pajamas. With Zipadee-Zip, babies are free to stand up, crawl, roll and move around safely. This versatile sleep garment has 7+ uses including: encourages sleep during travel, provides a germ-free environment on planes, trains and cars, prevents scratching and more. It works like magic to help babies fall asleep and stay asleep and is ideal for transitioning babies from swaddling or for babies who do not like to be swaddled.
Gentle Goodnight
Gentle Goodnight will guide you through a step-by-step sleep method that will have your baby or toddler to sleep in less than 25 minutes. You will be able to get your baby to sleep for a nap or bedtime at home or on the go; keeping you on the schedule you both choose throughout the day;giving you the time you need for yourself day or night! Dancing your baby or toddler gently to sleep has many important benefits including getting the baby weight off quickly. Throughout Gentle Goodnight you will find tools that will help you bond and gain the trust of your baby because you are not letting your baby cry themselves to sleep. Conscious parenting starts here to nurture a child who knows they are safe and loved. Because the way we raise our children shapes their future, start them off with a Gentle Goodnight!
http://www.Gentlegoodnight.com
Baby Elephant Ears
Baby Elephant Ears is a multi-use headrest providing spinal/neck alignment and comfort for babies ó and theyíre designed to look like adorable elephant ears! Baby Elephant Ears go wherever baby goes ó stroller, swing, car seat, changing table, etc. The headrests are fully washable and require no attachments, straps or special skills and theyíre offered in diverse prints and organics. The superior design and durability of these headrests make them the perfect gift for parents!
Girlie Glue
Girlie Glue is an all natural accessory glue used to stick bows to babies' heads, earrings to ears and so much more! It lasts all day, and at the end of the day dissolves easily in water. Girlie Glue is designed to make accessorizing easy and comfortable. There are endless possibilities with Girlie Glue!
Strong Little Sleepers
Strong Little Sleepers specializes in helping families get the sleep they deserve. Lori Strong is a an award-winning Certified Child Sleep Consultant and Certified Happiest Baby Educator. She works with families through email, phone, and in-home visits in order to help their children (ages 0-6) sleep better. When children sleep, parents sleep, and the entire family is happier!
http://www.stronglittlesleepers.com
oogiebear
For parents of young children, oogiebear is the first booger removal tool that safely and gently removes both sticky and dried mucus from a child's nostrils, and it can also be used to clean baby's ears.
Developed by mother and Registered Pharmacist, Dr. Nina Farzin, oogiebear was created with comfort in mind, offering two unique ends to remove wet or dry boogers effectively to help children breathe easier and soothe them at a time of incredible discomfort.
NeatCheeks
What's different about these wipes? NeatCheeks are the world first and only FLAVORED face wipes that keep kids smiling during clean up! NeatCheeks face wipes for kids are all natural and are fragrance free. They are flavored with sweet stevia, a natural plant extract. Whether you have a child that doesn't like having his/her face wiped OR you are looking for a gentle, all natural alternative to a typical face wipe, NeatCheeks is your solution! These little face wipes of happiness keep kids smiling and they ask for them by name! "Cheeks, cheeks, cheeks!" When your babies realize there is a sweet flavor on their lips during clean up, they grin ear to ear and actually ENJOY having their face wiped.
pello
The pello is a distinct, donut-shaped floor pillow with raised edges, ultra-soft plush brushed poly and cotton fabrics and a padded center that benefits a child at all stages of development. It is machine-washable, can be thrown into the dryer, and is durable and portable for mothers on the go. Every pello has two side handles enabling it to be folded in half like a taco and easily portable. Each pello also includes a pocket with a loop inside to hold baby items. In addition, loops on the side of the pello keep toys at bay. pellos are made with the best materials. Our fabrics are handpicked and each pello is filled with 100% new polyester fibers. This helps the pello maintain its integrity and durability through countless machine washings. Also, the pello has been tested by the State of Ohio and is registered with the federal governmentís Consumer Product Safety Commission.
Little Ashkim
Little Ashkim Hooded Turkish Towel feels thicker and luxuriously softer than regular cotton towels, yet it's beautifully lightweight, absorbent and fast drying – even after endless washing. Our super soft, absorbent and durable hooded towels are made with extra-long fiber loops with zero twist yarn constructed from long staple cotton with well known legendary quality of Turkish towels. The lack of twist in the yarn allows the cotton fibers to open up, increasing absorbency and softness to five times more than regular cotton towels – providing a soft hug for your little one. This bamboo lover is great for both bath time and after a fun day at the beach.
PullyPalz
This innovative toy not only entertains baby, it keeps a pacifier in view and reach! With PullyPalz, dropped pacis even come backÖ Which is great for those times when parents need an ëextra handí.
The toy uses something similar to a pulley systemÖ When baby drops one, and it falls to the side, another is in view and reach. By grabbing the one in view and pulling toward mouth, the dropped paci comes back!
Mo Mo, Moo Moo, and Puddles are always ready to lend a handÖor hoof!
Baby Bump Bundle
When baby arrives, we welcome the bundle of joy with a surprise gift box of baby goodies. From bath and diapering products to keepsakes, this bundle of baby items is very useful in caring for a newborn. We also might include a pacifier, blanket, toy, or book in our BabyBundle as well as onesies or photo albums.
Jangala Tribal Warrior
Jangala Tribal Warriors: Living, Growing and Learning From The Heart is the first book of a series designed to increase childrenís capacity to handle their feelings and conflicts while building healthy and strong relationships. The concepts are based on positive psychology, Nurtured HeartÆ language and rational thinking skill building. Two of the younger characters, Nina and Gabby get entangled in a conflict that stemmed from teasing and we learn how the entire tribe stands together to make change for the better in their Jangala -a magical rainforest where peaceful, loving communities and tribes are the norm and expectation.
http://www.jangalatribalwarriors.com
Babee Talk
If you are hunting for organic cotton baby bedding that has it all, you're in the right place. Designed by a mom and created with love for chic, safety-conscious parents, Babee Talk crib bedding, crib rail covers and plush toys combine the softest materials and rigorous safety checks with strikingly beautiful design.
Meet You in Dreamland
Welcome to ""Meet you in Dreamland."" A place where families from the Central Coast of California and beyond can receive help and support in their quest for a better nights sleep for their little ones. Founded in 2011 by Kerrin Edmonds, Meet You in Dreamland's goal is for families to become well rested and able to enjoy each day to its fullest.
If you are a parent or family member who is exhausted and overwhelmed from too many sleepless nights, tired of bedtime battles and inconsistent naps or just need help adjusting your current schedule, Meet You in Dreamland can help.
http://www.meetyouindreamland.com
The Minkey
The Minkey by Olie is a patented all-in-one winter garment for all babies and toddlers; it is one garment that combines gloves, scarf, and hat all in one! Are you tired of constantly losing your childís gloves or constantly struggling to get your child to keep his or her gloves on in the winter? Are you tired of only finding one glove instead of both when need them? Are you tired of constantly buying new pars of gloves or hats in the winter? The Minkey presents the perfect solution for parents!
http://theolie.com
Sand Gone
Sand Gone is a dry powder that when applied to sandy parts of your body removes the sand leaving your skin soft and smooth. All natural ingredients with a coconut fragrance. A must for beachgoers or after playing in the sand.
Woombie
The Woombie Air is the first breathable swaddle that allows excess body heat to escape and requires no wrapping. Invented by a mom of five, 19-year RN, and Infant Care Specialist, the 14-award winning Woombie is a unique peanut shaped swaddle that imitates the comfort and security of the womb resulting in longer periods of sleep. It helps reduce the risk of SIDS as well as prevents overheating, face-scratching, startling, and colic (voted as a top colic product by the Fussy Baby Site). Over a half a million babies and counting have used the Woombie and parents swear by it!
Pacidoodle
PacidoodleÆ was born out of necessity because a babyís pacifier is as personal as it gets! We are dedicated to turning ordinary pacifiers into Pacidoodles by permanently engraving babyís name, monogram or cute saying on the knob. Parents enjoy peace of mind knowing their babyís pacifier is clearly marked and the engraving will stand up to all the rigors of sterilization, will not rub off or fade. And the cute factor is over the top! People will stop right in their tracks to take a closer look and ask, ìWhere did you get that pacifier?î And then the light bulb goes offÖ ìWhy didnít I think of that?î We believe every paci baby deserves a Pacidoodle!
Snack & Play Travel Tray
Star Kids Products is an innovative childrenís product manufacturer that specializes in making fun and safe products for busy, traveling families. We specialize in safe and easy-to-clean products to make life easier when traveling with children whether via car on road trips, railroad or by plane.
Cardiff Products
Nothing is worse than a sore neck from sleeping uncomfortably in the back seat of a car. Avoid the dreaded head bob (or if multiple kids are in the back ó the head bump) with the Cardiff Booster Seat Headrest. This revolutionary, new device provides support and comfort for a child asleep in a moving vehicle. Its thoughtful design can also accommodate users of all sizes. By attaching to your vehicleís existing headrest with a simple, universal mount, the Booster Seat Headrest provides lateral support to keep a childís head and body upright; comfortably aligned in the seat as they sleep. If the kids catch a good nap while in the car they will be well-rested and not cranky!
http://www.cardiffproducts.com
Sleep, Baby, Sleep
Baby/Toddler sleep site. Helping families with babies that are having sleep troubles such as frequent night wakings, problems sleeping through the night, nap troubles, sleep schedule issues, and anything else related to baby/toddler sleep. This is a one email baby/toddler sleep consultation package, for anyone who is having trouble getting their baby to sleep. This package included all questions/concerns answered by a sleep consultant, and a sleep plan if applicable.
http://violet-sleepbabysleep.blogspot.com
Rockin' Green
Finally, Itís Cool to be Green! Rockiní Green eco-friendly cleaning products are for families that care about their health and their planet. Unsatisfied with the ìgreenî cleaning products on the market, Kim, a mom of three, created her own special non-toxic laundry soap formula that works tough on dirt and stains while being gentle to the environment, your family, and your budget. From Kimís kitchen to now a well-known brand, Rockiní Green is a family favorite for cleaning all types of spills, messes, stains, and funk around your house. What makes Rockiní Green organic cleaners the best? They areÖ Biodegradable and made from recycled materials Recyclable Packaging Phosphate-Free Gluten and Vegan Friendly SLS- and Parabens-Free Free of optical brighteners.
Wristy Buddy
Wristy Buddy is a one piece teething wristband comprised of a wristband with an absorbent animal in the center, a textured teething attachment, and a satin attachment. Wristy Buddy is designed for babies that are teething that havenít developed the motor skills to hold traditional teething objects. Babies that canít grasp toys can manipulate Wristy Buddy. Wristy Buddy is made of absorbent materials to help keep little faces and clothing dry. Its various textures and colors engage and stimulate. It is easily accessible to your teething baby and is more sanitary than traditional teething objects.
Baby Dipper
Invented by Barbara Schantz, a mom of two sets of twins, the patented Baby Dipper bowl means true one-handed feeding of infants and helps toddlers learn to feed themselves. Older children and adults also benefit from the ability to feed themselves using only one hand. The combination of features that enable one-handed feeding makes the Baby Dipper bowl unique. It is the only bowl that has all of the following features: a non-slip base, a triangular shape, transparent vertical side walls, and an angled interior surface that leads to a spoon-shaped corner for collecting the food.
http://www.babydipper.com
Southwest Beverages
SippityÆ hot cocoa mix has been scientifically designed and uniquely blended into a dry mix form that contains all the ingredients necessary for you to enjoy the ultimate hot cocoa beverage experience. All of our ingredients are premium quality selected from the best American suppliers. All products are 100 % gluten free and 99.9 % caffeine free. Easy Microwavable. For diet conscious consumers, our low calorie, Sippity LiteÆ products offer the same great taste as our SippityÆ sugar blends flavors but less than 2 grams of sugar per serving. Available in 6 delicious gourmet flavors: chocolate, chocolate marshmallow, chocolate cinnamon, pumpkin spice, chocolate peppermint and chocolate raspberry.
http://www.southwestbeverages.com
Ubbi
Enter the world of Ubbi where innovative products are designed and created with parents and children in mind. Under the Ubbi name, you will find unique, quality products that are easy to use, helping to simplify parentsí lives while keeping babies as happy and safe as can be. Thanks to its award-winning can of steel, Ubbi is now a recognized brand worldwide. The Ubbi diaper pail is renowned for its ability to achieve maximum odor control and appreciated for offering the convenience and value of utilizing any standard trash bag or reusable cloth liner, a breakthrough in the diaper disposal market. With the same customer focused philosophy and innovative design capabilities, the Ubbi brand is now expanding its signature diapering selection and extending into the feeding category. A wide range of Ubbi branded products is now available for todayís modern parents that are looking for stylish and functional baby essentials. From concept to final creation, the Ubbi team works together every step of the way to bring the best in design and value. The input of every member of the team is taken into account in the development of the Ubbi products, but consumer input is the most important as customer satisfaction is our primary goal.
San Diego Bebe
The mom invented and multiple-award winning San Diego Bebe Eco-Nursing Pillow is an eco-friendly nursing pillow that offers support, comfort, and discretion for mom and baby.
Winner receives a Single Onesie Gift Pack. Super-soft, high-quality onesie with embroidered musical notes and musically-inspired text. Made of 100% combed cotton. Choice of pink, blue or white.
http://www.doubleblessings.com
Pearhead
Add a personal touch to your tree for years to come with our Babyprints Holiday Ornament. Just press their tiny hand or foot into the non-toxic, soft air-drying clay to capture the precious imprint. There's absolutely no mixing, no baking, and no mess! If you make a mistake – no problem, you can redo it as many times as you need until you get the perfect impression. Includes plastic shaping ring, air-drying clay, rolling pin, plastic hole punch, and red and green satin ribbons for that finishing touch! 100% baby safe.
Quantuminds
Quantuminds Baby Powder Wipes are simply wet wipes that are designed to release cornstarch baby powder onto the skin. Once applied to the skin the formula will adhere and then dry to form a layer of smooth soft absorbent cornstarch baby powder.
The Noblo
The Noblo Umbrella Buddy is a practical, problem-solving product that anchors umbrellas for safety and sun protection. Invented by two moms to stop fly away beach umbrellas (and the injuries that can result from this), Noblo is a simple to use beach umbrella anchor. Three easy steps: 1) Fill Noblo with sand, 2) velcro to beach umbrella, and 3) relax at the beach. Noblo will take care of your beach umbrella.
Sponsors:
I strive to bring you the very best contests, deals, freebies, coupons, and exclusive blog giveaways! I strongly believe in being frugal, and stretching your hard-earned dollars to the max! Sit back and enjoy saving!
Hi there!! I am Stacy aka Dnbuster! I am a proud mom of 3 kiddos from Texas!! Blogging has given me chance travel and attend events with my kiddos! In 2014 we were able to take a few family vacations ~ My family and I visited many places including Dino World in Glen Rose, Medieval Times in Dallas, Natural Bridge Caverns and The Alamo in San Antonio, Schlitterbahn Beach resort and Waterpark and The Sea Turtle Rescue Center in Beautiful South Padre Island!! I also won tickets to attended my first blogging conference ~ It was the Blogalicious6 blogging conference in San Antonio.
Fashion, social media, babies, food, and good cheer-what else could you ask for? Ashley Suzanne was founded May 2010, and has grown tremendously since then. Ashley Suzanne is a God centered blog and enjoys a family friendly atmosphere, where anyone can come, learn something new and just have fun.
http://www.ashleysuzanne.com
Lifestyle Blog with tips on parenting, crafts, places to visit, recipes and so much more
http://www.mylifeisajourney.com
A lifestyle resource site that offers gift guides and reviews on our absolute favorite products and travel destinations.
http://www.thenaptimereviewer.com
My name is Kathy and I'm the owner of Kathy's Savings. I love to share recipes, crafts, giveaways, reviews, travel and so much more.
Welcome to Sweetly Made (Just for you). The three of us are here to share organizational tips, business reviews, giveaways, DIY craft ideas, fun activities for kids, travel ideas, personalized Christmas stockings and more.
http://www.sweetlymadejustforyou.com/
New Age Mama is a blog dedicated to finding you the best products on the market for your home and family. We search the internet so you don't have to. Find reviews, giveaways, freebies and more!
http://newagemama.blogspot.com
Everything is always GREEN at Brittleby's Corner! As a mom, I think life should be simple and organic ~ going green is not as hard as it seems. See all the wonderful natural products I have discovered and even some I have made.
Visit The MamaZone for useful T.I.D.B.I.T.S. (Trials, Ideas, Discoveries, Books, Inspiration, Tech and Savings) to make mama's life easier. Find
We are a group of 5 Moms with 10 kids. We "Brag" about products and companies we think are Fabulous. All the products we review have actually been in our hands and are mom and kid tested. Find out from us which products are "Brag worthy!
http://www.thebraggingmommy.com
Children, Baby & Maternity Store
SewFatty is all about Mommyhood, Military Life, Fitness Journey, Sewing, DIY, Tutorials, Reviews and Giveaways, Natural/ Eco-Friendly Stuff.
This promotion is in no way sponsored, endorsed or administered by, or associated with, Facebook. We hereby release Facebook of any liability. Winner(s) will be contacted by email 48 hours after the giveaway ends. If you have any additional questions ñ feel free to send an email to Giselle Diaz at [email protected]. Sleeping Baby is not liable for any of the products given away.
Once the giveaway is over, the brands shown above may send you one email with an exclusive offer as a thank you for entering.