Green Scene Mom's Holiday Gift Guide Giveaway features top picks for Eco-friendly and innovative Christmas gifts for moms, kids and babies! Each of these items inspire Eco-friendly lifestyles, learning, and creative expression. Check out Green Scene Mom's Gift Guides and enter to win these amazing prizes from our giveaway sponsors!
Giveaway Prizes
Buttons Diapers – Diaper Cover, 3 Daytime Inserts & Flannel Wipes
Buttons one-size cloth diapers are soft, durable, and leak proof with double gussets around the legs. They fit babies 9-35 lbs and come in many colors and prints. The snap-in inserts are made from soft microfiber or a natural hemp/cotton blend, with a layer of soft fleece on top. Shop @ buttonsdiapers.com.
Oogaa – Plate, Placemat & Spoon
oogaa designs and manufactures non-toxic feeding products for kids. Their award-winning divided plates are stackable, soft, durable and easy to clean. oogaa's silicone plane and train spoons make mealtime fun, featuring molded designs that kids will love using! Shop @ oogaa.com.
Yummi Pouch Brights
Yummi Pouch reusable food pouches combine style and convenience in an eco-friendly container you can fill with homemade smoothies and blended snacks! Yummi Pouches are easy to fill and clean through the top zipper opening and great for taking healthy snacks on the go. Shop @ yummipouch.com.
Artterro – Collage Jewelry Kit
Embellish wooden pendants, beads and a bangle to create 6 gorgeous jewelry pieces, and proudly wear your own fashions! Shop @ artterro.com.
Pacific Baby – Natural Feeding Plate, Bowl & Cup – Green
Pacific Baby's all natural feeding bowl and cup is completely plastic-free and made from natural bamboo. It's strong, durable and dishwasher safe on the top rack. Made from biodegradable and compostable materials, this feeding set comes in several colors and is a stylish way to go-green at mealtime! Shop @ pacificbabyworld.com.
Austin Lloyd – 1 Month Subscription Box
A 1 month subscription of engaging surprises from Austin Lloyd. Each box includes 3-5 toys and at least one book that are customized to the development stage of your child. Shop @ austinlloyd.com.
Preserve – Mixing Bowl Set – Red
The Preserve Mixing Bowl set includes three nested bowls (2 qt, 3 qt, and 4 qt) made in the USA from 100% BPA free, recycled #5 plastic. Bowls are wide for comfortable mixing with an easy grip handle that aids pouring. Available in assorted colors. Shop @ preserveproducts.com.
Ubbi – Cloth Pail Liner
This Eco-friendly luxury liner is washable & reusable, pvc-free, waterproof, and odor resistant. Holds 7 gallons and closes with a drawstring. Shop @ ubbiworld.com.
pediped Shoes – 1 pair boys or girls
Exceptional quality, unsurpassed comfort, and distinctive styling have made pediped the fastest growing children's footwear brand in the United States. pediped is sold in over 2,500 US stores and 40 countries worldwide with an offering of more than 140 designs for boys and girls. The award-winning footwear is available in EU sizes 17 to 36. Shop @ pediped.com.
MAM Holiday Pacifiers
MAM pacifiers are available in boy and girl holiday themed packages. Each pacifier is decorated with fun, seasonal designs and will help keep your little one calm during the year's most joyous festivities. These pacifiers feature an anti-slip silicone nipple and curved shield with multiple small openings to allow air to circulate and baby's skin to breathe. Shop @ shopmambaby.com.
Wobabybasics Swaddle Me Blanket & Sweet Dreams Nursing Gown
Whether it is for swaddling, cuddling, warming or playing, this soft blanket will be a perfect companion for your little one. The unique hook and loop strap allows you to secure a pacifier, toy or to transform the blanket into a cozy cape. Mothers will appreciate the convenience of the simple yet stylish, pull-down nursing gown. Wobabybasics provides easy-to-wear, comfortable and practical organic cotton essentials for children up to 8 years old. As the healthiest option for babies and the planet, only GOTS certified organic cotton textiles and chemical free dyes are used. Shop @ wobabybasics.bigcartel.com.
Wishy Life Buddies – Interactive Book Set
Children bring their 'Buddy' to life by naming him and sprinkling him with Wishy Dust. The book includes a 'Buddy', Wishy Stem, Wishy Dust and seven empty eggs that can be filled with stickers, treats and small gifts. Shop @ wishylife.com.
Wristy Buddy – Teething Wristband
Wristy Buddy is designed for babies who haven't developed the motor skills to hold traditional teething objects. It is made of absorbent and non-toxic materials to help keep little faces and clothing dry. Shop @ wristybuddy.com.
Bert&Bratt pure-Go Portable UV Sterilizer
Pure-GO by Bert&Bratt is a Portable UV Sterilizer for pacifiers, bottle nipples, small teethers/sippy cup tops. NO heat, water or chemicals required. Just push a button to eliminate up to 99.9% of harmful germs in 4 minutes. This small/light sterilizer is perfect for travel and easily fits in your purse or diaper bag. No more hassles to try to find soap and water or do the "drop and pop". Just grab a Bert&Bratt sterilizer to conveniently help keep your baby healthy. Shop @ bertandbratt.com.
Enter to win this Amazing Prize Set!
This giveaway is open to United States entries who have a US mailing address and ends 12/14. Good luck!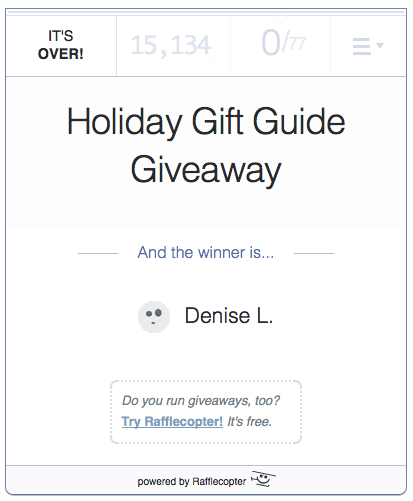 Brittleby's Corner is not responsible for sponsor prize shipment.