This is a sponsored post.
Most parents recognize the importance of teaching their kids to brush their teeth at least twice a day. They know that this can help to prevent their children from getting cavities. Many parents are discovering that there are several other benefits of teaching their kids how to maintain the health of their teeth. Check out a few examples.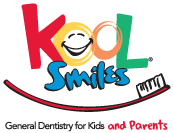 Establishing a Lifetime Habit
When parents teach their kids about brushing their teeth each day, they are helping their children to establish a long-term habit. Young children who are taught to brush their teeth at least twice a day are more likely to continue the habit into their teen years and beyond. Kids who brush and floss their teeth everyday are also more likely to continue to see their dentist each year as they grow older. This is especially true if their parents are practicing healthy dental habits and seeing their dentist on a regular basis for checkups. Kool Smiles is one example of a dentist's office dedicated to teaching kids the importance of practicing good dental habits.
Detecting Dental Problems
Another benefit of teaching kids the importance of healthy dental habits is that they are more likely to spot a problem with their teeth. They brush and floss everyday so they are familiar with the color and appearance of their teeth and gums. As a kid brushes, he or she may notice a discolored tooth or perhaps a part of the gum that's bleeding. In short, if a problem develops, a kid can see it right away and parents can make an appointment to get it checked out by a dentist. Seeing a dental problem immediately can sometimes prevent the development of a larger, more complicated dental issue.
Teaching Another Generation
Children who are taught good dental habits by their parents are likely to teach those same habits to their own children one day. They learned simple, effective habits that can keep their teeth healthy throughout their lifetime. Naturally, they'll want to pass along this same knowledge to their children so they can enjoy a lifetime of healthy teeth and gums. In short, parents are teaching their children habits that could continue through many future generations.
Eating Healthy Foods
Children who understand the importance of maintaining good dental health may be more careful about choosing the foods they eat. They know that eating too much candy and drinking too many sodas can damage their teeth. Also, if they do consume sugar-filled foods, they know it's important to brush their teeth right away to prevent excess sugar from creating cavities. Kids who become accustomed to practicing good dental habits may be more inclined to eat fruits and other low sugar treats to protect the health of their teeth.
 
Finally, parents who show their kids how to brush and floss their teeth are contributing to the overall quality of their children's health. Going to the dentist for regular checkups, watching for teeth or gum problems and eating nutritious foods all play a part in maintaining good dental health.