Product was given to me by Jinja Jewelry in order to post my honest opinion.

Jinja Jewelry is known for its beautiful handmade coral jewelry made in Bali. Their jewelry includes necklaces, rings, earrings, pendants, and bracelets. Jinja's motto is "People Helping People."
With every Jinja sale, the company provides jobs for the Balinese people and education for a Balinese boy named Putu (with hopes of giving back to more children). Jinja's inspiration to create unique, handmade jewelry comes from a desire to provide a better future to the beautiful and dedicated Balinese people. Through Jinja, owner's Don and Elaine Helmig have been able to sponsor a little boy who now attends a wonderful school in Bali which is a luxury not available to everyone. Jinja has proudly been the sole financial and educational support for young Putu. He is the son of Nyoman, one of the original Jinja Family members, and through Jinja receives an exemplary private education.

I was sent a necklace and earrings. The beautiful necklace is made with green and white mixed beads and with a cracked round mother of pearl pendant with sterling silver inside.The necklace is long and slips on and off easily over my head without disturbing my hair. The sterling silver earrings are small, 2.8cm cone shape earrings, with an off-white shell. I absolutely love theses earrings! They go with a variety of outfits! They have a simple elegance about them, but also work for a casual look.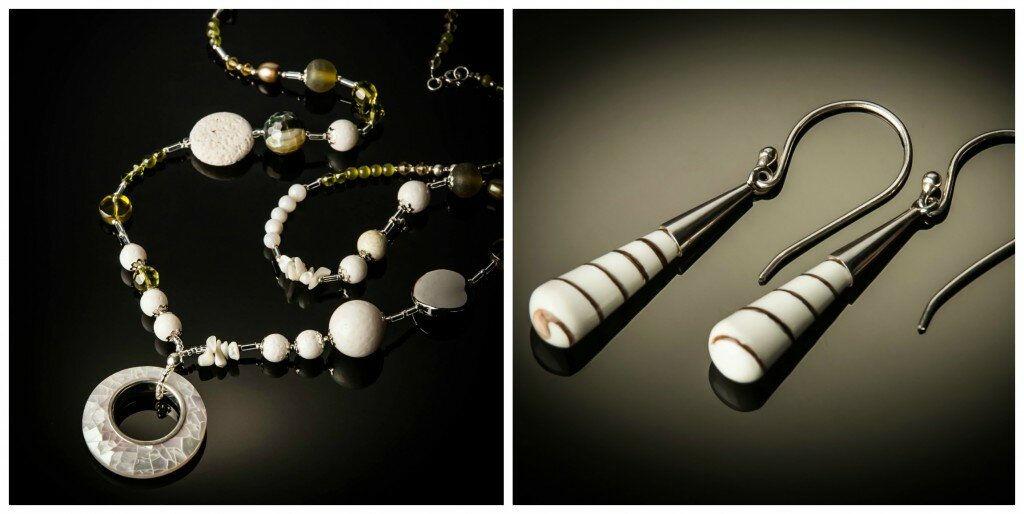 All of their handmade jewelry is beautiful! Their designs accommodate a variety of styles, which means that everyone is able to find something that works for them.

Part of the Jinja family in Bali with owner's Don and Elaine Helmig

You can purchase this jewelry and more online. The necklace is valued at $78 and the earrings are valued at $35.
Show support for companies that give back and – they have giveaways, fashion tips, seasonal looks, and more! You can also connect on and .

Jinja would like to give one of my readers a chance to win a set of earrings like I reviewed, the sterling silver and off-white cone shaped earrings, valued at $35. Enter to win on the Rafflecopter form below. This giveaway is open to US only and ends 12/11. Good luck!