Product was given to me in order to post my honest opinion.

In preparing for a disaster or an emergency, food storage is something to consider. Thanks to Jodi and Julie at Food Storage Made Easy, who have put together an ebook to help in emergency food preparation, you will learn how to be prepared. Their ebook is divided into three sections: BabyStep Checklists Guide, Food Storage Made Easy Encyclopedia, and Recipe Appendix.

You may feel overwhelmed when you hear the term "food storage", but Jodi and Julie want it to be fun and easy. In the BabyStep Checklists, you will find 26 checklists to help you build your food storage. The idea is that if you do one checklist every two weeks, you will have a full year supply for one adult for a year. Along with lists of things to do and buy, you are given recipes to try. These lists are designed to help you create a family plan, a disaster kit, and an evacuation list.
Each page in this first ebook is one checklist. Each page easily breaks down what you need to purchase, to do, and the related recipes to try. Each checklist has a theme to walk you through how to use what you purchased. For example, in Checklist #6, you are learning about wheat. Along with buying wheat, you are given recipes to make pizza dough and pancakes.
The Food Storage Made Easy Encyclopedia basically outlines food storage and everything you need to know to be prepared. This section can be printed and contains forms that need to be filled out. There are lists to help you create 72 hour emergency kits. This encyclopedia is chalk full of information. There is so much to learn! The BabyStep Checklists guide you through the encyclopedia.
The Recipe Appendix section houses all the recipes outlined in the BabyStep Checklists. Some recipes include Cheesy Ritzy Potatoes, Cream of Chicken Soup, Homemade Hummus, Honey Whole Wheat Bread, and so much more. With sixty whole food recipes, and food storage substitutions, you can find tips that will help you prepare your food storage meals.
Altogether these three ebooks are easy to follow steps to creating food storage. I learned so much just looking through the ebooks. Living in a small apartment with no garage, doesn't give us much room for food storage. Once we have a place of our own I will definitely have some sort of food storage. I understand why people want to be prepared, so I am excited to have these ebooks. I never really thought about food storage before, so this is all new to me.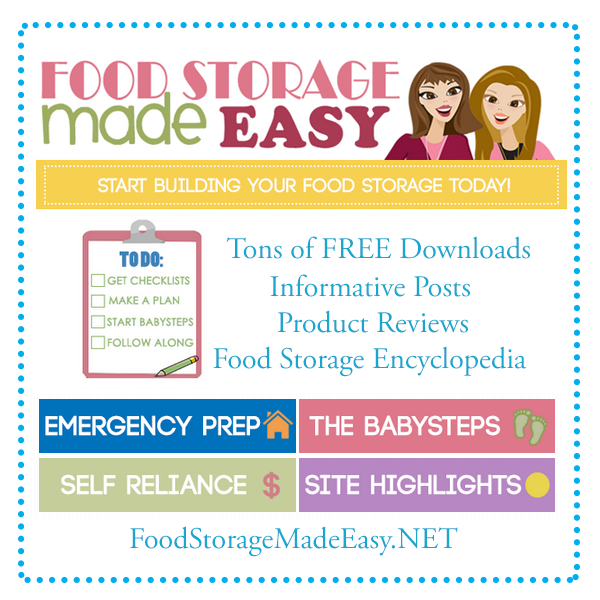 I think the Food Storage Made Easy blog is a great resource for anybody with questions about food storage. There are free downloads available along with other free resources. You can purchase this Food Storage Made Easy Program ebooks for $24. While they provide free resources on their website, the ebook nicely lays out everything you need to know in an easy to print resource guide.
Connect with Food Storage Made Easy on , , and .  You can also sign up for free bi-weekly checklists and a monthly newsletter here.
Have you heard of  food storage before? What are you doing to be prepared for an emergency?