I use olive oil everyday…EVERYDAY! I use it to make my own salad dressings as well as to cook my veggies. While at the NPA Marketplace, I met up with Bari Olive Oil Co., a family owned company from Central California, that makes their own olive oils and vinegars. The best part is that they have infused oils! At the Marketplace I was able to sample most of their infused oils…yum!


Once I got home I was sent an amazing assortment of oils and some vinegars to try. Opening the box, I felt like it was Christmas morning! I was sent infused oils including Garlic, Tandori, Basil, Lemon, and Jalepano. I was also sent a Fig Balsamic vinegar, a sample size organic Olive Oil, and a sample size Balsamic Vinegar. See why I was so excited. My contact for Bari informed me that the Lemon Olive Oil and the Fig Balsamic make a great salad dressing….was she right!!! They taste amazing together and I used it on the Kale Salad below!

I have made some recipes using these Gourmet oils and vinegars. Here are the ones I have posted on my blog: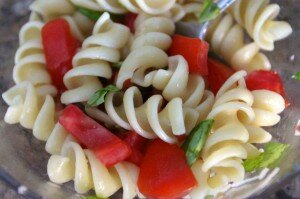 Tomato Basil Summer Pasta

Organic Kale Chips
If you think your plain Olive Oil is cutting it, you are wrong!

I have used Basil Infused Olive Oil in pastas, grilling veggies and as a dip for french bread. I have used the Lemon infused Olive Oil in salad dressings. I have used the Garlic infused Olive Oil in pastas, grilling veggies, and making Kale Chips. I don't think I can go back to normal Balsamic Vinegar after trying the Fig Balsamic….it is so sweet and delicious!
You can buy these infused oils and more on their website. Gourmet Infused Olive Oils are $10.99 and their Gourmet Balsamic Vinegars are $13.99.
Connect with Bari Olive Oil on and .
Bari Olive Oil will be giving away one 250ml Gourmet Olive Oil and one 250ml Gourmet Vinegar in the You Are What You Eat Giveaway Hop. Come back on November 2 to enter to win. Interested in an extra entry? Visit Bari Olive Oil Co. and leave a comment below telling me another product you would like to try or what infused oilor vinegar you would pick if you won. Enter HERE!

Thank you to Bari Olive Oil for providing the products mentioned in this post for review. Although I received these products at no charge, all opinions expressed in this post are my own.