This is a sponsored conversation on behalf of Doctor On Demand.  All opinions are my own.

There are times when I want to talk to a doctor, but don't want to go to the Doctor's office. Whether it be something that comes up in the middle of the night or something that I want dealt with right away, it would be nice to make a phone call and talk to a doctor. When things come up with my kids or I am just curious about something, it would be nice to talk to a doctor instead of waiting for days or weeks for an appointment.
Doctor On Demand is an app for your smart phone that allows you to input your symptoms and actually video chat with a doctor. The cost is only $40, which is the same as most co-pays. All doctors are US licensed, board certified, and are given a through background check. Doctor On Demand is not ideal for every case, but works well for:
cold, cough, flu, allergies
rash, Pink eye, hayfever
asthma, bladder infections
pediatric questions
most cases that are not life threatening
prescriptions refills
referral to a specialist
Doctor On Demand is not meant for every ailment. Do not use Doctor on Demand for:
chest pain/pressure
poisoning
seizures
serious head, neck or back injury
broken bone
Dr. Phil is an advisor for Doctor on Demand, and his son, Jay McGraw is a co-founder. Jay McGraw is the Emmy Award-winning creator and executive producer of The Doctors.
Doctor on Demand is easy to download and simple to use. You make an account, upload a credit card, and you are ready to go!
Like the screens show above, you input your symptoms and anything you want your doctor to know and once you submit your info, you wait for the doctor to review your symptoms and give you a call. It connect almost immediately for me.
I contacted Doctor On Demand for myself this past week for advice. I woke up not feeling great but thought my stomach ache would go away. After making myself throw-up, something I have never done before, I started to feel better. All day I felt weak and tired. After calling Doctor On Demand, I was told that I most likely had a 24 hour bug caused by a virus or bacteria.
My doctor was nice and I could tell he had read everything I had written down. He was thorough and asked me relevant questions. He was kind and took his time talking to me. It didn't feel rushed. It was nice being able to talk to him, without loading my kids in the car and going to a doctor's office.
I will be using Doctor On Demand for any future ailments that come up with my family. It was quick and easy to use. I input my symptoms and within 2 minutes I was face to face with a Doctor. This would be great for any ailments that come up with my kids.
Connect with Doctor On Demand on and .
You can download Doctor On Demand on iTunes and Google Play.
Use code BC14 for $10 off a call. Enter code when you sign up or just add it to your account.
We would like to celebrate the fact that you can now talk to a board certified doctor (on demand!) from the comfort of your own home, thanks to the Doctor On Demand app…. with a great giveaway.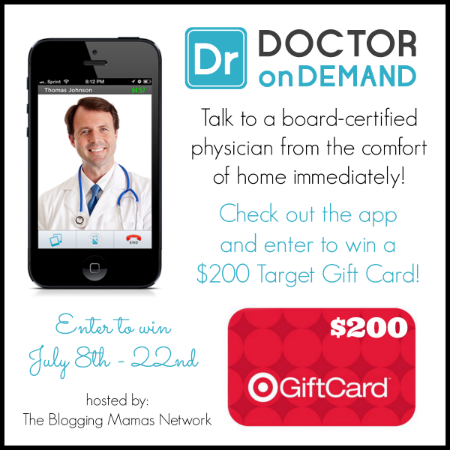 The $200 Target Gift Card Giveaway will end on July 22nd.
It is open to US residents, 18+ only.
Please use the Giveaway Tools Form below to enter! Good Luck!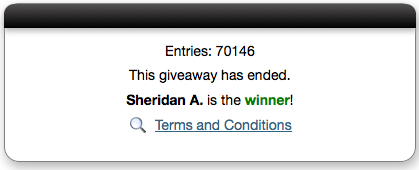 Disclosures: The participating bloggers are not responsible for prize fulfillment. Giveaway is open to US residents, age 18+ only. The giveaway will close at 11:59PM EST on 7/22/14. One winner will be selected randomly from all eligible entries. If you have any questions about this giveaway or would like to inquire about group events like this, please contact the Blogging Mamas Network at [email protected].