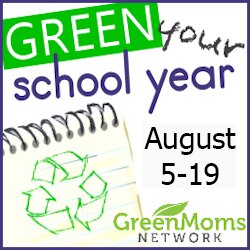 As the school year starts wrapping up, parents can't help but start thinking about what we need to get for the upcoming school year. New lunch boxes, new backpacks, new clothes, and so much more!
We hope you'll join the Green Moms Network by participating in the 2nd Annual Green Your School Year Giveaway Hop, hosted by Happy Mothering, Easy Green Mom and Brittleby's Corner, from August 5-19, 2014.
If you have school aged children, we invite you to join us for this year's giveaway hop! It's a great opportunity to learn more about brands that have eco-friendly school supplies, clothes and everything your child needs for school.
Event Details
Dates: August 5-19, 2014
Price: FREE!
Prize Requirements: Minimum $25.00 in prizes Eco-Friendly School Supplies (multiple prize packages/winners are okay, but each winner must receive at least $25 worth of prizes)
Hashtag: #GreenSchool
While it's not required that you post about this giveaway on your blog, it would be greatly appreciated if you wrote a short post about the hop and shared it on Facebook and Twitter so we can make this event a huge success!
To Sign Up:
Add your blog to the linky.
Grab the button.
Help promote! #GreenSchool
We'll email out the details of the hop a few days before it begins.
You're also invited to apply to become a member the Green Moms Network (optional, but encouraged).
Add Yourself the Linky
Grab the Button