Product was given to me in order to post my honest opinion.
With certain holidays, I tend to wait till the last minute to buy gifts. So far I seem to be on top of it this year. I was ready and prepared for Valentine's Day over a week in advance. Now that Easter is coming up, I have already planned out my kid's Easter Baskets.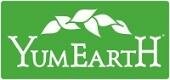 My husband and I like to limit sugar, but around holidays we let our kids enjoy it a little more often. But if they are going to have sugar, we try to make sure it is from a company that only uses real ingredients. YumEarth has released a line of Easter themed candy. This will definitely be in my kids' baskets, and my husband's too!