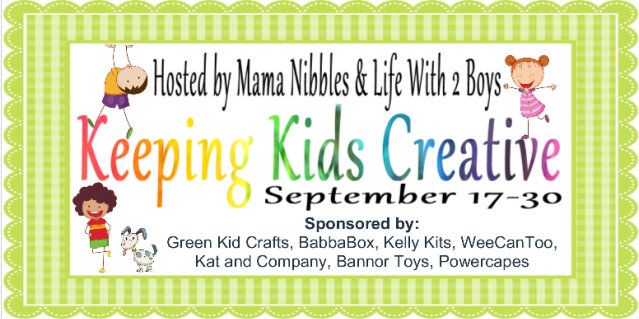 The last week of September has been Nationally designated as "Keep Kids Creative Week". While this week is often celebrated in schools with many fun activities to help stimulate kid's creativeness, parents can also take advantage of this week to do some really fun things at home. Many parents struggle with finding time to fit creativity in but there are lots of products out there to help us with getting those creative juices flowing. Mama-Nibbles and Life With Two Boys created this event to help you find some fun products to keep your family creative not only during "Keep Kids Creative Week" but any time of the year!
Keeping Kids Creative begins on September 17th at 12:01am EST and ends on September 30th at 11:59pm EST. Along with the awesome prizes that each of the participating blogs are offering we also have 3 Grand Prizes thanks to our sponsors BabbaCo, Green Kid Crafts, Kelly Kits, PowerCapes, Bannor Toys, We Can Too, and Kat and Company.
(and tell them Brittleby's Corner sent you!)
At Brittleby's Corner you have a chance to win:
 A year long subscription to Kelly Kits ~ a monthly craft sent to straight to your door! Valued at $99.90.
Activity Bags ~ two eBooks for preschooler activities! Valued at $27.
Enter in the rafflecopter form below for your chance to win this Preschooler Package valued at over $125! Giveaway is open to US only and ends 9/30. Good Luck!
Disclaimer: Please note that the Keeping Kids Creative hosts and participating bloggers are not responsible for sponsors that do not fulfill their prize. We have represented each sponsor with the expectation that they will fulfill their prize in a timely manner. While we are not responsible, we will make every effort to assist the winner in obtaining their prize.