The last sponsor for the Very Green Back to School Giveaway is Moja Creations.  Moja Creations offers a variety of eco-friendly products including reusable snack and sandwich bags, sandwich wraps, cloth napkins, produce bags, coffee sleeves, and insulated lunch totes. Their goal is to provide eco-alternatives, especially when it comes to your kids lunch. Their reusable products make it easier to green your lunch and your lifestyle. Moja also makes blankets, crayon wallets/rolls, backpacks, felt activity mats, children's embellished onesies and shirts, and more!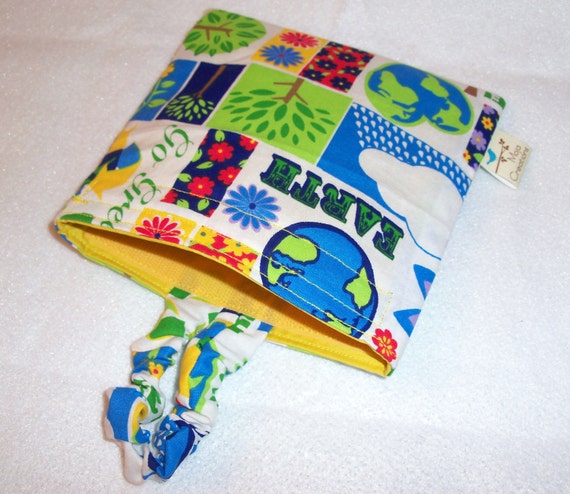 I was sent the Save the Planet sandwich bag. I love that her bags have handles that are a perfect fit for little hands. The cotton bag has a nylon lining and is 6.5″x6.5″. The nylon has no lead, phalates or BPA, and is water resistant. There is a 6″ velcro strip and the handle is elastic. To clean, turn the bag inside out and wipe clean or rinse in soapy water and let dry. If needed, you can clean the bag in a washer and dryer.
The Snack-A-Long is an eco-friendly, reusable snack bag great for adults and children on the go! It is a great alternative to Ziploc bags which are thrown out after only one or two uses. It is perfect for snacks of all kinds: cereal, apple slices, carrots, grapes, crackers, berries, pretzels, etc. The sandwich bags fit a sandwich perfectly (and can then be placed in the larger bag to create a lunch kit!) They are also great for cosmetics, craft supplies, toys, or anything you can think of!
I really love this sandwich bag! It looks great and is nicely sewn. The handle fits perfectly on my kids wrist, which makes it easy to carry around AND enjoy snacks at the same time! My kids always want food on the go! Whenever we get in the car they ask for a snack! I don't use plastic baggies in my house, so I have a stash of reusable bags in all shapes and sizes. My kids just started preschool and when I picked them up the other day they asked where there snack was. So now I am going to be prepared and bring my Moja Creations reusable bag full of pretzels and a PB&J sandwich!
You can buy this sandwich bag and other eco-friendly products on the Moja website and Etsy shop. The sandwich bag is $7, the snack bag is $6 and the sandwich wrap is $7. I think these are a great price and I love all her fabric options!
Connect with Moja Creations on their website, Facebook and Etsy.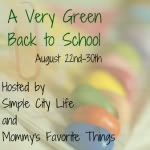 Moja Creations will be giving away a set of reusable bags in "A Very Green Back to School" Giveaway Hop. This set includes 1 sandwich bag, 1 snack back and 1 sandwich wrap and is valued at $20. You can enter to win HERE. Interested in an extra entry? Visit Moja Creations and leave a comment below telling me your favorite product & print.

Thank you to Moja Creations for providing the products mentioned in this post for review. Although I received these products at no charge, all opinions expressed in this post are my own.