My kids start preschool on Thursday! I am excited for them but at the same time, I know that this is where they pick up lots of germs! I try to keep my kids in good health by making sure they eat plenty of fruits and veggies and get lots of exercise. But sometimes that is not enough.
I met up with Vitalah at the NPA Marketplace in Las Vegas this past June. They produce Oxylent, a daily multivitamin supplement drink mix for children as well as adults and pregnant women (I will be doing a review/giveaway of the adult and prenatal drink mix soon). I was able to sample their drinks at the show and was impressed. I thought they tasted pretty good! I was given a couple samples to take home as well. I have tried vitamin drinks before and actually use a popular brand almost everyday. I have gotten samples of kids vitamin drinks as well in the past and my daughter loves them! My son is a little more hesitant…but that just goes along with their personalities.

I was sent a 30 day supply of Childrens Oxylent. The drink is Bubbly Berry Punch and is fizzy, so I think my daughter thinks it is a treat! The drink is sweetened with stevia. Oxylent nurtures, strengthens, and protects.
Nurtures: A balance of the highest-quality nutrients supports your child's development and well-being. Vitamin A supports growth, vitamins E and B support developing nervous systems, and zinc supports brain function.

Strengthens: Vitamin D3, calcium, and magnesium support the health of growing bones and muscles.9–11 Recent research shows that even kids in sunny climates don't get enough vitamin D.


Protects: Vitamins A, C, and D, and the mineral zinc promote the health and function of your child's immune system. Vitamin C, a water-soluble vitamin, is important to replenish daily.

Because of kids rapid growth, they need more nutrients than adults, which is why childrens multivitamins are so popular. Oxylent drink mix will acutally absorb better than pills! This drink mix is formulated for children ages 4+. Oxylent supports healthy growth, supports nervous system development, supports brain function, supports healthy bones and muscles, and supports immune system health. You just use one packet a day, pour it in water, stir and watch it quickly dissolve and enjoy! There is no sugar, dairy, gluten, additives, preservatives, or caffeine in their children's supplement drink.
My daughter wants one of these everyday! My son is still hesitant and I actually think it is beacuse it is fizzy. We hardly drink carbonated beverages and my son has only had them a handful of times, so I think he is afraid of them! My son is more cautious than my daughter in every way possible! So I am still trying to get my son to try these…I think in time he will give in. My daughter thinks these drinks are the best and will sometimes ask for more than one in a day. I do give my kids both a multivitamin and a vitamin c chewable everyday, so this drink mix is on top of that. I want my kids to stay healthy and be able to enjoy life fully! My husband and I encourage eating vegetables, but sometimes it is hard to get in all their servings everyday. I am glad that I can turn to vitamins and drink supplements to help my kids stay healthy.
I even tried the Children's drink and thought it tasted good. If you are in the market for a children's vitamin, check out Oxylent. You can buy their products online on their website or find a store near you that carries their products. The 30 day supply of Children's Oxylent is $24.95 online.
Connect with Oxylent on their website, Facebook and Twitter.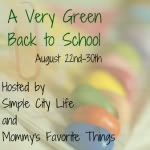 Oxylent will be giving away a 30 Day Supply of Children's Daily Multivitamin Supplement Drink Mix & a Growth Chart (pictured above) in "A Very Green Back to School" Giveaway Hop. Come back on August 22 to enter to win a green prize pack from Brittleby's Corner. Interested in an extra entry? Visit Oxylent and leave a comment below telling me something you learned or another product you would like to try.
Thank you to Vitalah for providing the products mentioned in this post for review. Although I received these products at no charge, all opinions expressed in this post are my own.