Living an eco-freindly lifestyle incorporates all areas of life. One area that is the hardest to accommodate is clothing! Buying clothes made in the USA is hard to come by! My husband and I shop at American Apparel when we can, but most of their styles don't appeal to me. I like their men's v-neck shirts for myself and my husband gets their shirts, sweaters, pants…just about everything he can!  We like supporting local and US made products, so when I came upon EcoGeek, I noticed that their clothing was American Apparel. I also love their logo…
EcoGeek Boutique is an online store dedicated to providing eco-freindly products.  They sell shirts for men, women and children, as well as reusable water bottles, bags, books and more. Their shirts though are not just a plain American Apparel shirt…no, no! They further the cause of their eco-friendly company. Here are just a couple:
Erin, founder of EcoGeek and the designer of the graphic tees, chooses to print on American Apparel shirts because of their quality and the fact that they are made is the USA. The company is committed to being green through their use of renewable energy for their servers, telecommuting,  and offsetting their carbon footprint with Sustain our Planet as well as supporting Trees for the Future.
EcoGeek designs and sells responsibly sourced t-shirts and other products that help you make a statement AND a contribution to save the planet, all without having to try too hard. For every t-shirt sold you help combat climate change by helping EcoGeek Boutique plant a tree with Trees for the Future. It's called our T(R)EE Shirts program!. Our overall goal at EcoGeek Boutique is to make you look cool. We help you make smart, witty statements about protecting our environment, but in your own way, and only if you want to. Our t-shirt designs range from subtle to subversive; funny to fanatical; and anonymous to all-out convictions about your beliefs. Look around and find a clever concept that defines your temperament. We dare you to define your inner EcoGeek!
Through the non-profit Trees for the Future, EcoGeek Boutique plants trees in areas of the world where they will have the most positive impact on our planet in fighting climate change. For every t-shirt sold, EcoGeek makes a donation to the Trees for the Future to plant one tree. The overall goal is that more trees can offset more carbon emissions! Trees convert carbon dioxide and water into oxygen and energy-rich compounds that benefit plant and animal life.
My husband was sent the Carbon Neutral shirt and the Red Sigg bottle. He just lost his Sigg bottle, so it was great to get a new one! I thought this shirt would be perfect for my husband because he loves to ride his bike. If we lived in a more bike friendly area, my husband would ride his bike everywhere. The shirt fits my husband perfectly! It was a little long, but overall, he really liked the design and colors.
For Father's Day, EcoGeek Boutique put together gift sets for just $29.99.
EcoGeek also offers an EcoGeek Training Program for kids.
The EcoGeek Training Program is a unique learning toolkit designed to help educate children about the environment in a way that is easy and fun! As part of this five-unit curriculum, we have developed worksheets, activities, and weekly activities that provide you with the tools you need to conduct a well-structured, eco-friendly experience. The EcoGeek Training Program contains units that focus on: the carbon cycle, the four R's, energy conservation, making planet-friendly choices, and practicing environmental habits in the community. Each activity teaches students how their actions impact the environment and affect climate change.
Erin was so kind to send this for my kids as well. We haven't tried it yet, but I look forward to doing this with them when they get a little older. My kids already know about recycling, and I know that is just the tip of the iceberg. It's nice that I now have a guide to help me teach my children the importance of living a life that cares about the environment. The training program is sent in a PDF file with worksheets and directions on how to do the program as a family.
Overall, both my husband and I love EcoGeek Boutique products! I wish the shirt and bottle had been for me, but maybe next time I can try out their products! I love that they make shirts for every member of the family and that their whole store centers around promoting an eco-friendly lifestyle!
Connect with EcoGeek on their website, Facebook and Twitter. You can also sign up for their newsletter on their main page.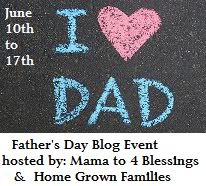 EcoGeek Boutique has generously offered to give one "dad" a $30 gift code! Come back on Sunday June 10th to enter the I Love Dad Father's Day Giveaway Hop. Interested in getting an extra entry? Visit EcoGeek and tell me your favorite shirt or another product you would love to have?
Thank you to EcoGeek Boutique for providing the products mentioned in this post for review. Although I received these products at no charge, all opinions expressed in this post are my own.